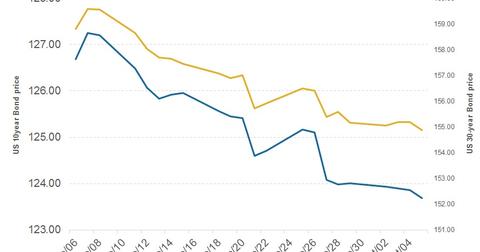 A Double Blow for Bond Markets?
By Ricky Cove

Updated
Bond markets reel under pressure
Just as US bond markets (BND) were recovering from the recent hawkish stance of the US Fed and the possibility of another rate hike in December 2017, the announcement of the GOP tax reform plan added to the pressure on bond markets. Bond yields across the board rallied as accommodative tax reforms could lead to a higher rate of inflation (TIP) growth, which could lead to a faster pace of rate hikes. But these developments are keeping bond markets under pressure.
Article continues below advertisement
Bond market performance
Yields on US government bonds spiked following the rise in the prospect of a December rate hike. Over the past month, the yield on the ten-year bond (IEI) has risen 38 basis points (or 16%), while the yield on the 30-year bond (TLT) has risen 29 basis points (or 9%).
Still, we can't be sure of the exact terms of the proposed tax reforms and how the final bill will make its way through the various factions of both houses of US Congress. All we know is that markets have already started dumping bonds (AGG), which is leading to higher yields.
Tax reforms and Fed to remain key drivers of bond markets
If the proposed tax reforms gain momentum in Congress, there could be another round of selling in bond markets, and after that, the focus will likely to shift back to the Fed. All incoming US economic data from now on will make investors react to the possible Fed reaction in the December FOMC (Federal Open Market Committee) meeting.
Although the outcomes are hotly contested across the spectrum of leading US economists and research groups, some believe that the proposed tax reforms could be positive overall for the US economy, equity markets, and the US dollar—with the only casualty being bond markets.