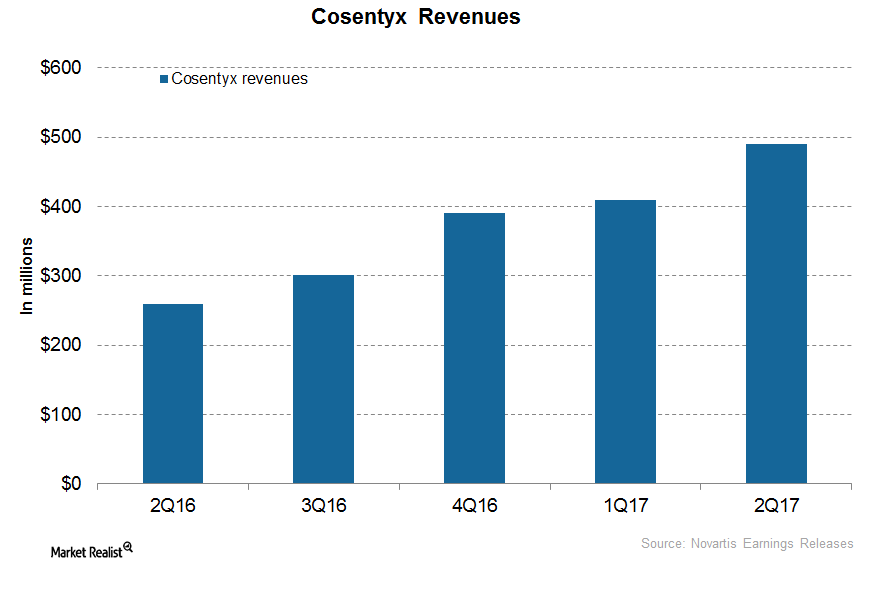 Why Cosentyx Could Significantly Drive Novartis's Revenue Growth
Cosentyx revenue trends
In 1H17, Novartis's (NVS) Cosentyx generated revenues of around $900 million compared to $436 million in 1H16. In 2Q17, Cosentyx generated revenues of around $490 million, which is a whopping ~88% growth on a year-over-year (or YoY) basis and ~20% growth on a quarter-over-quarter basis.
Article continues below advertisement
About Cosentyx
Cosentyx (secukinumab) is a human interleukin-17A inhibitor used for the treatment of individuals with moderate-to-severe plaque psoriasis and are subjects for systemic therapy. Cosentyx is also indicated for the treatment of adults with psoriatic arthritis (or PA) and active ankylosing spondylitis.
In September 2017, Novartis presented successful data from its phase three trial demonstrating high and long-lasting skin clearance in individuals with moderate-to-severe plaque psoriasis at five years. Clear skin is the primary goal of psoriasis treatment. The success of treatment is measured by the psoriasis area and severity index (or PASI). A PASI 75, 90, and 100 is considered a vital measure of treatment success for individuals suffering from plaque psoriasis. In the phase three trial, from the end of the first year to the end of fifth year, 89% of patients achieved PASI 75, and 69% of the patients achieved PASI 90. Further, 44% of the patients on Cosentyx achieved PASI 100, or completely clear skin at the end of the first year. The rate was 41% until the end of the fifth year. Cosentyx also demonstrated long-term safety and low immunogenicity.
In July 2017, Novartis received approval from the Committee for Medicinal Products for Human Use (or CHMP) for a label update of Cosentyx. The label update of Cosentyx includes the 52-week updated data from the CLEAR study, which demonstrated the long-term superiority of Cosentyx in helping psoriasis patients with long-lasting clear skin compared to Stelara.
Cosentyx's peers in the psoriatic arthritis and plaque psoriasis drug markets include Johnson & Johnson's (JNJ) Stelara, Eli Lilly's (LLY) Taltz, and AbbVie's (ABBV) Humira. The growth in sales of Novartis's Cosentyx could boost the share prices of the Pharmaceutical ETF (PPH). Novartis makes up about ~6.6% of PPH's total portfolio holding.