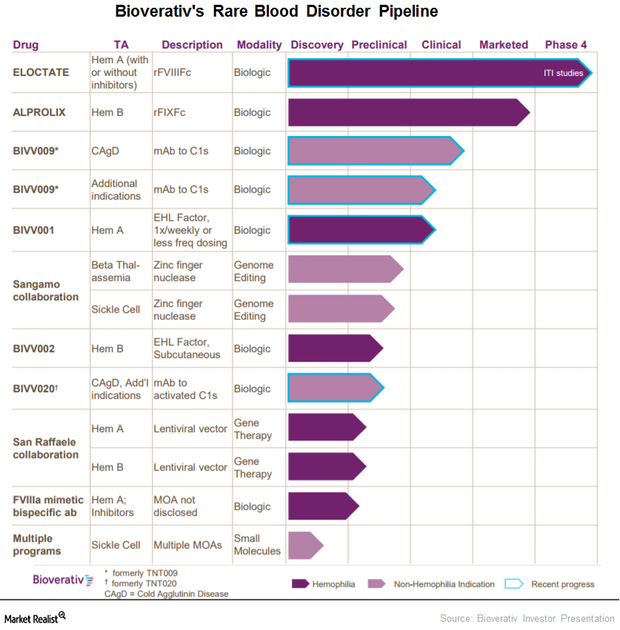 This Part of Bioverativ's Pipeline Could Be a Major Long-Term Growth Driver
Recent submissions
In June 2017, the FDA (US Food and Drug Administration) accepted Bioverativ's (BIVV) IND (investigative new drug) application for BIVV001, an investigational factor-VIII drug designed to treat prophylaxis from bleeding associated with hemophilia A. Bioverative is on track to start a phase-1/2a clinical trial with BIVV001 in 2H17.
Article continues below advertisement
Overview of ongoing trials
Bioverativ is extensively conducting clinical trials with Eloctate for label expansion. Bioverative is now in collaboration in conducting a phase-4 clinical trial to evaluate the efficacy of Eloctate or rFVIIIFc for ITI (immune tolerance induction) in individuals with severe hemophilia A who had not previously undergone ITI treatment.
Bioverativ is also conducting phase-4 trials for rFVIIIFc in individuals with hemophilia A who have failed in prior ITI therapies.
Bioverativ is now recruiting participants for phase-3 trials for rFIXFc, a recombinant coagulation factor IX FC fusion protein, for the evaluation of safety and efficacy in untreated individuals with severe hemophilia B.
Bioverativ is also conducting a phase-3 trial, B-yond, for the evaluation of rFIXFc in the prevention and management of bleeding episodes in previously treated individuals with hemophilia B. The success in ongoing clinical trials should help Bioverative in its label expansion of marketed products as well as with the addition of novel drugs.
Bioverativ's peers in rare disease drugs market include Alexion Pharmaceuticals (ALXN), Shire, Vertex Pharmaceuticals, Amgen (AMGN), BioMarin Pharmaceuticals (BMRN), Sanofi, and Novo Nordisk (NVO). Notably, the iShares S&P Mid-Cap 400 Growth ETF (IJK) invests ~0.73% of its total portfolio holdings in Bioverativ.