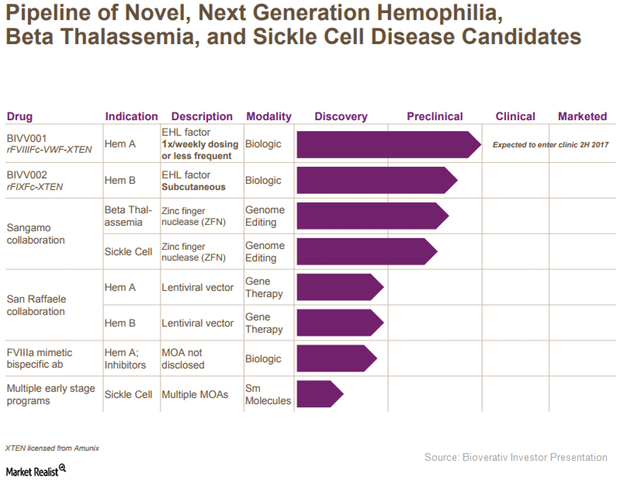 Bioverativ's Research Pipeline May Boost Future Revenues
By Margaret Patrick

Jul. 28 2017, Updated 12:05 p.m. ET
Research pipeline
Bioverativ (BIVV) plans to improve compliance rates for hemophilia patients further by launching therapies with lower dosage frequency.
On June 12, 2017, the FDA (U.S. Food & Drug Administration) accepted the company's IND (Investigational New Drug) application for investigational therapy BIVV001. This prophylactic therapy is being studied as a once-weekly or less frequent dosing regimen for hemophilia A patients.
The binding of factor VIII with the von Willebrand factor has been the major challenge in developing therapies with lower dosing frequency for hemophilia A patients. Since the von Willebrand factor has a very short half life, it has proved difficult to develop a once-weekly dosing regimen.
However, in animal studies, BIVV001 has demonstrated double the half-life compared to Eloctate, the longest-acting factor VIII currently available in the market.
So considering the unmet market need, if BIVV001 manages to meet its clinical trial endpoints, it may have a favorable impact on Bioverativ stock as well as the Vanguard Extended Market ETF (VXF). Bioverativ makes up about 0.15% of VXF's total portfolio holdings.
The company also plans to explore BIVV002, a subcutaneous formulation for hemophilia B patients.
Article continues below advertisement
Collaborations
To compete effectively with blood disorder players such as Novo Nordisk (NVO), Pfizer (PFE), and Shire (SHPG) and expand beyond the hemophilia indication, Bioverativ is working with Sangamo Therapeutics on a genome editing program for beta thalassemia and sickle cell diseases.
Bioverativ has also collaborated with the San Raffaele Telethon Institute for Gene Therapy to develop a gene-based therapy for hemophilia A and B patients.
Bioverativ is also planning to strengthen its research pipeline inorganically. It believes in adding early-stage assets since these investigational orphan drugs can be rapidly advanced to a proof-of-concept stage by understanding the major biomarkers.