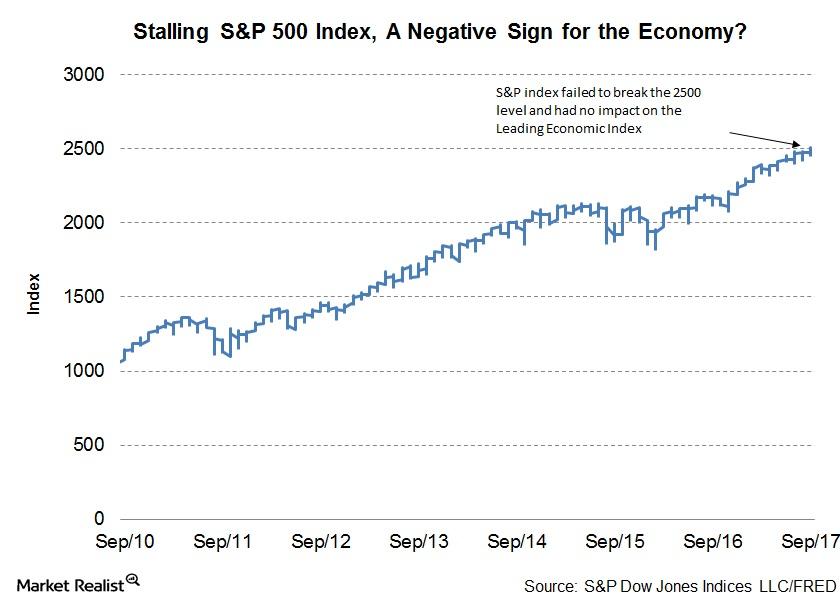 The Link between the S&P 500 and the Leading Economic Index
The S&P 500 is stuck
The S&P 500 (IVV) index has been stuck near the 2,500 level for more than a month now. The recent war of words between US president Donald Trump and North Korean foreign minister Ri Yong Ho has increased risk aversion. However, the index has been resilient despite the rise in volatility.
The Conference Board uses the S&P 500 (SPY), which contains the largest 500 stocks in the United States, as a constituent of its Leading Economic Index (or LEI). Changes in the outlook for these companies can be used as a proxy for any expected changes in the US economy.
Article continues below advertisement
The S&P 500's effect on the LEI
The S&P 500 was almost unchanged in August, appreciating by 0.05%. Since November 2016, the index has had just one negative month, a sign that investors expect continued growth in the US economy. The S&P 500 (UPRO), which has a weight of ~4.0% in the LEI, did not affect the index in August.
Funds tracking the S&P 500
Major ETFs that track the performance of the S&P 500 include the SPDR S&P 500 ETF (SPY), the iShares Core S&P 500 ETF (IVV), the Vanguard S&P 500 ETF (VOO), and the PowerShares S&P 500 Low Volatility Portfolio ETF (SPDN).
If tax reforms are announced and US growth continues, further gains in the index could be expected in the near term. One possible hindrance to gains would be an escalation of North Korea–US tensions.