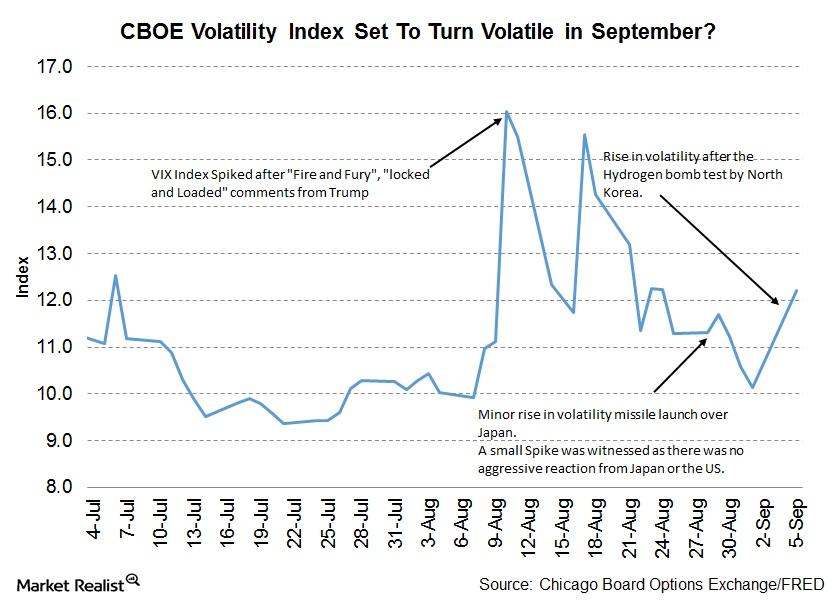 Why September Could Be Volatile for Financial Markets
Key events lined up for September
August was a volatile month, filled with economic, political, and geopolitical uncertainty. September could turn out to be another nail-biter for the financial markets.
The issues that rocked the markets in August, such as the North Korean missile tests and the US debt ceiling limit discussions, are set to continue. Additional uncertainty in the form of the European Central Bank's QE tapering announcement and the Federal Reserve's balance sheet reduction plans could keep investors on edge.
Article continues below advertisement
Volatility is likely to remain high
Uncertainty in economic, political, and geopolitical issues can lead to higher levels of volatility (VXX) in the financial markets. In the last few weeks, a series of nuclear missile tests conducted by North Korea led to a sudden rise in volatility (VIXY).
These geopolitical risks, however, are being digested by markets very quickly and markets (SPY) generally return to normal in a few hours. Fears about North Korea should be a key issue for the markets in September, although the chances for escalated conflict could remain slim.
The other critical issue is the US debt ceiling limit increase, which will be up for debate in the coming weeks. This action could have a negative impact on the US equity (QQQ) and fixed income markets if both parties in the US Congress come to an agreement before the end of September.
Series overview
Throughout this series, we will discuss the key risks faced by the global financial markets in September. We'll also explore how these risks could impact the bond (BND), currency, and equity markets.