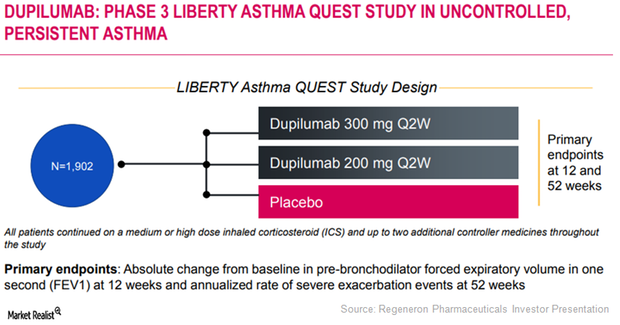 Regulatory Approval in Asthma Indication May Boost Dupixent's Sales
Rapid uptake in the atopic dermatitis sector
In June 2017 and July 2017, healthcare providers wrote prescriptions for Regeneron (REGN) and Sanofi's (SNY) Dupixent for 750 new patients on a weekly basis. Further, these prescriptions were filled for around 500 new-to-brand patients every week in these two months.
Since its commercial launch, Dupixent has secured coverage from two leading pharmacy benefit managers in the US—Express Scripts and CVS Health. Access constraints have been consistent with what is normally seen for drugs with a similar label. The companies aim to ensure broad market access for Dupixent by the end of 2017.
Article continues below advertisement
If Regeneron succeeds in reducing prior authorization constraints for Dupixent, it may help boost the drug's sales as well as the company's stock price. This may also have a beneficial impact on the Health Care Select Sector SPDR ETF (XLV), as Regeneron makes up about 3.1% of the ETF's total portfolio holdings.
Asthma indication
Regeneron and Sanofi are currently evaluating Dupixent's potential as a therapy for patients suffering from persistent uncontrolled asthma in its Phase 3 trial, LIBERTY ASTHMA QUEST. Around 1,800 adult and adolescent patients have enrolled in this study.
Positive top-line data from this trial was released on September 11, 2017. Positive data from the Phase 2 study that highlighted the efficacy of Dupixent for asthma patients would also be included in the application for securing FDA approval for the drug. Regeneron and Sanofi plan to file this application in 4Q17.
Article continues below advertisement
The LIBERTY ASTHMA QUEST trial
In the LIBERTY ASTHMA QUEST trial, Regeneron and Sanofi had randomized patients in three arms, and 200mg and 300 mg Dupixent every other week, to patients in the first two arms, respectively. Patients in the third arm were treated with a placebo therapy. Every patient was administered a background therapy of inhaled corticosteroids and either long-acting beta-agonist or a leukotriene receptor antagonist.
Results from this trial were determined based on two primary endpoints—annualized rate of asthma attacks in the 52-week period and lung function, which will be measured by absolute change from baseline in FEV1 at week 12.
Plus, 300 mg Dupixent combined with a standard of care therapy, given every other week to asthma patients, reduced exacerbations ~46%. For patients with lower eosinophilic values of 150 cells per microliter, the reduction in exacerbations was 60%. The reduction in exacerbations for patients with higher eosinophilic values of 300 cells per microliter was ~67%.
Patients also witnessed an absolute change in FEV1 from baseline of 9% when treated with Dupixent. Patients with lower eosinophilic values demonstrated 11% change in FEV1 from baseline, while those with higher eosinophilic values witnessed an 18% change in FEV1 from baseline.
Positive results from this Phase 3 trial and subsequent regulatory approval for Dupixent could enable Regeneron and Sanofi to compete effectively with established asthma players such as Teva Pharmaceutical (TEVA) and GlaxoSmithKline (GSK).
In the next article, we will discuss ongoing research programs for Dupixent.