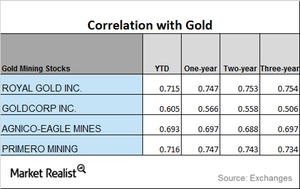 Reading the Correlation of Mining Shares
Correlation analysis
Monday, September 25, 2017, was a day of revival for mining shares as tensions in North Korea resurfaced. The correlation analysis of mining stocks to gold is important since they determine the future movement of the stock.
We've selected Royal Gold (RGLD), Goldcorp (GG), Agnico-Eagle Mines (AEM), and Primero Mining (PPP) for a correlation study with gold.
Mining funds closely track precious metals and their trends in price movements. Among the mining funds that have seen strong YTD (year-to-date) gains are the Global X Silver Miners ETF (SIL) and the iShares MSCI Global Gold Miners (RING), which rose 1.2% and 2.0%, respectively, on Monday, September 25.
Article continues below advertisement
Correlation trends
A correlation study of mining shares is crucial since the movement of the stocks can be studied by following the changes in precious metals.
Among the four miners that we're analyzing in this part, Goldcorp has the lowest correlation to gold YTD, while Primero has the highest correlation. Only Goldcorp and Primero have seen an upward moving trend in its correlation with gold over the past three years, while the other two have seen a mixed trend in correlation.
Goldcorp has a three-year correlation of 0.51 and a year-to-date correlation of 0.61. A correlation of 0.61 implies that about 61.0% of the time during the past year, Goldcorp has moved in the same direction as gold.