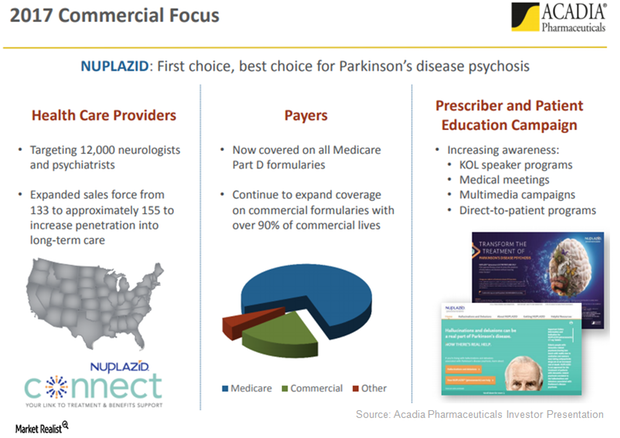 Nuplazid Sees Increasing Physician Intent to Prescribe in 2017
Increasing intent to prescribe
Acadia Pharmaceuticals' (ACAD) commercial teams have been carrying out promotional efforts to create awareness for Nuplazid among physicians with the intent to have them prescribe the drug. Intent to prescribe has been rising rapidly. In a recent survey of physicians, Acadia Pharmaceuticals noted that the number of targeted US physicians who prefer Nuplazid as a first line therapy for Parkinson's disease (or PD) psychosis rose from 18.0% in March 2017 to 30.0% in June 2017. Approximately 33.0% of movement disorder specialists in the United States also consider Nuplazid an optimal first line treatment for PD psychosis.
Article continues below advertisement
The increasing inclination of the physician community toward Nuplazid has played a pivotal role in identifying new PD psychosis patients who could be eligible for this regimen. Acadia Pharmaceuticals has also been focusing on engaging with both patients and caregivers, actively targeting the long-term care segment.
If these efforts help boost the revenue trajectory for Nuplazid, it may have a favorable impact on Acadia Pharmaceuticals stock as well as the stock of the Vanguard Small-Cap ETF (VB). Acadia Pharmaceuticals makes up about 0.11% of VB's total portfolio holdings.
Patient adoption
Despite some patients discontinuing Nuplazid within the first two months of starting therapy, a trend typical of central nervous system drugs, Nuplazid has managed to make major inroads in the PD psychosis market in the United States. The average duration of therapy has been stable, and patients have shown good tolerance for the drug.
To improve the awareness about PD psychosis in caregivers and patients, which is currently very low, Acadia Pharmaceuticals executed 150 educational and promotional programs in 2Q17. Approximately 70.0% of the patients and caregivers participating in these programs approached their physicians to discuss symptoms of PD psychosis, which may spur new patient diagnoses.
In the next part, we'll take a look at the near-term growth drivers for Acadia Pharmaceuticals.