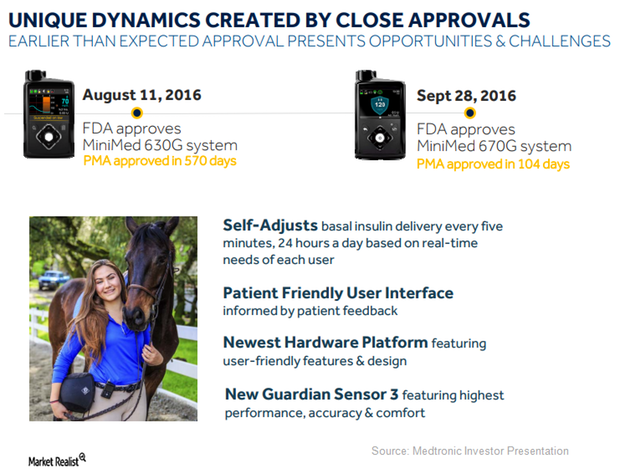 Medtronic Saw Several Challenges during Launch of MiniMed 670G
MiniMed 670G launch
On September 28, 2016, the US Food and Drug Administration (or FDA) approved Medtronic's (MDT) MiniMed 670G system as the first hybrid closed-loop system that partially automates the continuous monitoring of glucose and appropriate dosing of basal or long-acting insulin in type one diabetes patients above the age of 14 years. The device works in two modes:
In the manual mode, the device functions as per the user's instructions.
In the auto mode, the device works using algorithms and continuous glucose monitoring (or CGM).
This premarket approval (or PMA) was obtained within 104 days of the filing of the application. If Medtronic sees rapid uptake of MiniMed 670G in future years, it could have a favorable impact on its stock prices as well as those of the Vanguard Dividend Appreciation ETF (VIG). Medtronic makes up about 3.1% of VIG's total portfolio holdings.
Article continues below advertisement
Challenges
On August 11, 2016, the FDA approved Medtronic's MiniMed 630G, a device with improved pump design and SmartGuard technology, almost 570 days after the filing of the PMA application. Since the much-advanced MiniMed 670 was approved ahead of its anticipated timeline and in the midst of the MiniMed 630G launch, it created a real risk for patients wanting to defer their purchases. Plus, Medtronic had to accelerate its plans to create the ecosystem required for the launch of the MiniMed 670G. The company also had to ramp up production of the CGM system and actively engage with payers to secure reimbursement for this product, also referred to as an "artificial pancreas."
In fiscal 2H17, Medtronic launched the priority access program to first target those patients who were interested in purchasing MiniMed 670G. Since there is an undersupply of these devices, patients registered in this program are allowed to purchase MiniMed 630G and then replace it with MiniMed 670G for a small fee. In order to create a favorable ecosystem for supporting the commercial launch of MiniMed 630G, the company initiated a customer training phase. The real world data generated from this training program has helped the company identify the required infrastructure, education to physicians and patients for using the product, and service infrastructure to support its helpline called "StartRight." These insights will enable Medtronic to match real-world results of MiniMed 670G with those derived from the pivotal trial.
With the robust MiniMed 670G launch strategy, Medtronic expects to present tough competition to peers such as Insulet (PODD), Johnson & Johnson (JNJ), and Roche Holdings (RHHBY).
In the next article, we'll discuss market opportunity for Medtronic in the type two diabetes segment.