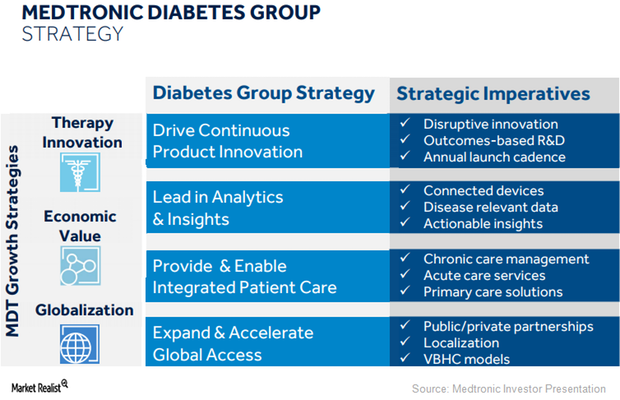 What's Medtronic's Long-Term Growth Strategy for Its Diabetes Business?
Growth projections for 2017
Medtronic (MDT) expects its diabetes business to witness a temporary sequential drop in revenues in 2Q18 and then return back to growth in the second half of fiscal 2018. This drop is due to lower deferred revenues in 2Q18, as the majority of pump shipments associated with the priority access program were concluded in 1Q18. Further, while the company will have an opportunity to offer MiniMed 670G to non-priority customers, it also requires a steady supply of sensors to the centers, as patients tend not to prefer pumps without sensors.
If the company's diabetes group manages to outperform these expectations, it could boost Medtronic's stock prices as well as those of the Vanguard Growth ETF (VUG). Medtronic makes up about 1.1% of VUG's total portfolio holdings.
Article continues below advertisement
Strategy implementation in next five years
The above diagram is a snapshot of Medtronic's Diabetes Group strategy and the company's strategic imperatives for its diabetes business until fiscal 2022.
In fiscal years 2018 and 2019, Medtronic aims to develop next-generation closed-loop insulin dosage systems for type one diabetes patients. Further, the company aims to launch these devices around the world. Medtronic is also focused on expanding the presence of Diabeter clinics to forge partnerships with multiple institutions to expand its presence in the diabetes management area. The company also aims to increase the use of decision support tools to further boost its diabetes business revenues. Finally, Medtronic is focused on expanding its footprint as well as its commercial scale in the type two diabetes space in the next two years.
Beyond fiscal 2019, Medtronic aims to make closed loop automated insulin delivery a standard of care for type one diabetes patients. The company also plans to increase the importance of continuous glucose monitoring in the treatment of type two diabetes patients. Plus, Medtronic plans to create a hub and spoke network of diabetes clinics. Finally, the company aims to increase its presence in value-based healthcare programs and become a dominant force in predictive and interactive diagnostics by the end of fiscal 2022.
The robust diabetes strategy is expected to enable Medtronic to pose tough competition to other diabetes device players such as Insulet (PODD), Johnson & Johnson (JNJ), and Roche Holdings (RHHBY).
In the next article, we'll discuss the launch dynamics of MiniMed 670G in greater detail.