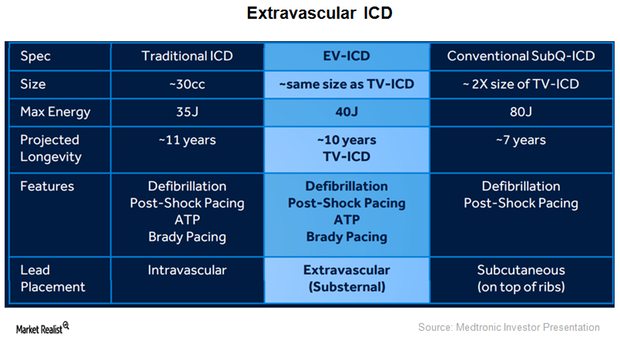 Medtronic Expands Capabilities of Implantable Cardioverter Defibrillators
Implantable cardioverter defibrillators
On May 2, 2016, the FDA approved Medtronic's (MDT) Visia AF and Visia AF MRI Surescan, two single-chamber implantable cardioverter defibrillators (or ICDs) capable of detecting asymptomatic and undiagnosed atrial fibrillation (or AF). These devices then monitor recurrence of AF, characterized by irregular quivering and rapid heart rhythms arising from the atria, and treat the life-threatening condition.
Article continues below advertisement
According to Edward J. Schloss, MD, director of cardiac electrophysiology, of Cincinnati's The Christ Hospital, approximately three-fourths of patients that get single chamber ICD placed do not have a history of AF. However, according to Schloss et al.'s study, How Common is New Onset Atrial Fibrillation in Single Chamber ICD Patients?, 20% of the ICD patients go on to develop symptoms of AF within two years of the device implant.
If these ICDs combined with Reveal LINQ capabilities witness rapid uptake in usage, it may boost Medtronic's stock price as well as the Vanguard Dividend Appreciation ETF (VIG). Medtronic makes up about 3.8% of VIG's total portfolio holdings.
With 79%–94% of the AF episodes being asymptomatic and 68% of the episodes not being detected during annual Holler monitoring, Visia AF and Visia AF MRI Surescan ICDs are targeting a market opportunity with significant unmet demand.
Extravascular ICD
The chart above offers a snapshot of the extravascular ICD devices being developed by Medtronic. These devices are intended to overcome challenges posed by conventional subcutaneous ICD systems such as large size, inability to provide anti-tachy and anti-brady pacing, and limited longevity in a cost-effective manner.
This device is expected to prove transformative in the ICD space and become the standard of care for patients who have not opted for alternative surgeries before placing the ICD.
Medtronic's focus on innovation is expected to help it compete effectively with other cardiovascular device players such as Abbott Laboratories (ABT), Boston Scientific (BSX), and St. Jude Medical (STJ).
In the next article, we'll discuss the growth areas in Medtronic's Cardiac Rhythm and Heart Failure Disease Management (or CRHF) segment.