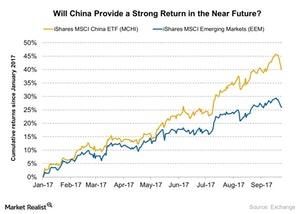 Why Marc Faber Increased His Position in China
Marc Faber on emerging markets
In an interview with CNBC's Squawk Box on Wednesday, September 13, 2017, Marc Faber, editor and publisher of the Gloom, Boom & Doom Report, shared his outlook on emerging markets and why his sentiment toward China is changing.
In an earlier interview, Faber warned that the Fed's persistent lower interest rate has created a bubble in US stocks and various other asset classes. He also predicts a correction in the S&P 500 index (SPY). He is more confident about investing in emerging markets (EEM) (VWO) and Europe (VGK) than in the United States.
Article continues below advertisement
In the previous part of this series, we saw that emerging markets have been outperforming developed markets so far this year. The hedge funds that have invested in emerging markets got a good return on a year-to-date basis. It was nearly three times higher than investments in developed markets (EFA), according to a strategist's report.
Marc Faber on China
Marc Faber said in the interview that he is becoming more positive about emerging markets and particularly China, in which he has increased his position (YINN) (MCHI). On a year-to-date basis, India's Nifty 50 index rallied nearly 21.0% as of September 25, 2017. However, China's Shanghai Composite Index hasn't rallied strongly so far this year. But the ongoing structural reforms could possibly provide a huge opportunity for investors.
You may be interested in reading Delivering Alpha: Where Fund Managers Are Placing Their Bets.