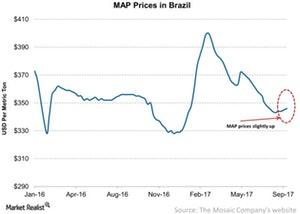 MAP Prices Were Firm for the Week Ending September 15
MAP prices
In recent months, MAP (monoammonium phosphate) prices in Brazil have been on a downward trajectory. However, MAP prices appear to have found firmness in recent weeks. The prices are even seeing slight upward movement. The weakness in MAP prices is a continuation of the theme that we have seen for phosphate fertilizers. The weakness has been negative for Mosaic (MOS), PotashCorp (POT), Agrium (AGU), and Israel Chemicals (ICL).
Article continues below advertisement
Weekly prices
For the week ending September 15, the weekly MAP prices in Brazil rose by 29 basis points week-over-week to $346 per metric ton from $345 per metric ton a week ago. In the above chart, you can see that MAP prices have fallen as much as 15%, which is far from the peak of $400 per metric ton achieved in March 2017.
On the positive side, MAP prices are still higher than last year's lowest point of $328 per metric ton in December 2016. Notably, MAP prices have continued to struggle throughout most of 2017. The current week's price levels are almost 3% lower than the levels in the same quarter in 2016.
Phosphate producers (NANR) see Brazil as a strong market. It could lift fertilizers due to the growing agricultural market. However, weak prices are still a concern for most producers.
In the next part, we'll discuss potash prices.