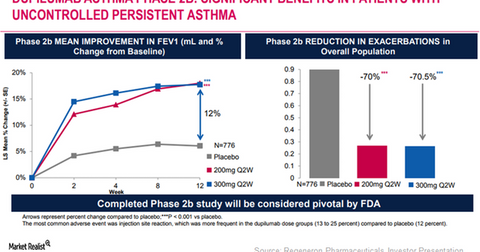 Label Expansion in Asthma Indication May Boost Dupixent's Sales
By Margaret Patrick

Updated
Label expansion in asthma indication
Regeneron (REGN) and Sanofi (SNY) have included positive results from the previously concluded Phase 2b study in the regulatory submission that is planned for 4Q17. This submission would seek approval from the FDA for Dupixent in the asthma indication.
In this Phase 2b study, ~769 asthma patients were treated with 200 mg and 300 mg Dupixent in combination with standard of care, every other week. There was a 64%–75% drop in the annualized rate of asthma attacks or exacerbations in these patients compared to those treated with placebo and standard of care therapy alone.
Article continues below advertisement
Further, Dupixent combined with standard of care also showed improvement in the range of 12% to 15% in FEV1 from baseline in asthma patients after 12 weeks of treatment as compared to those treated with standard of care alone. The superior results with Dupixent were also seen in patients with high blood eosinophils, an indicator of allergic asthma.
While the incidence of adverse side effects and infections was similar across the arms, the percentage of patients administered with Dupixent witnessed injection site reactions of 13%–25%, higher than the 12% rate witnessed for the placebo group.
If Dupixent secures regulatory approval for all types of asthma patients, it may boost Regeneron's stock price as well as the Vanguard Total Stock Market ETF (VTI). Regeneron makes up ~0.14% of VTI's total portfolio holdings.
The LIBERTY ASTHMA VENTURE study
To further strengthen Dupixent's label in the asthma indication, Regeneron and Sanofi are evaluating the efficacy and safety of the drug in Phase 3 study, LIBERTY ASTHMA VENTURE, in patients affected by severe oral steroid dependent asthma. The companies expect the top-line data from this trial to be released in 4Q17.
Dupixent's strong label in asthma indication is expected to enable Regeneron and Sanofi to pose tough competition to other asthma players such as GlaxoSmithKline (GSK) and Teva Pharmaceuticals (TEVA).
In the next article, we will discuss growth prospects for Kevzara.