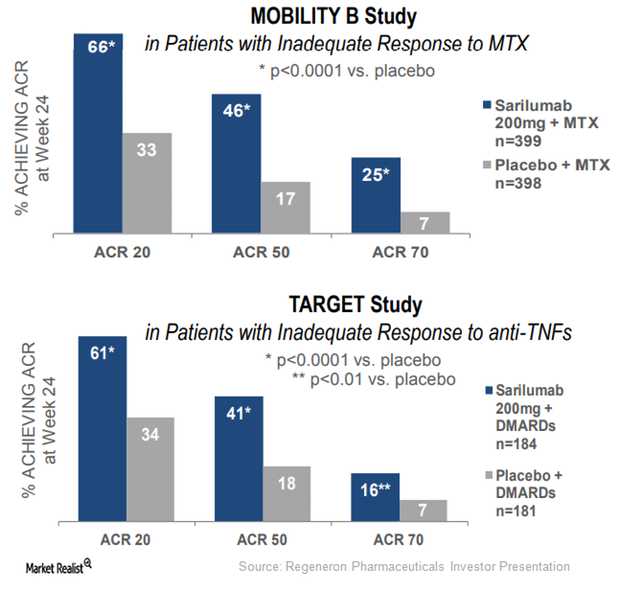 Kevzara May Emerge as a Prominent Rheumatoid Arthritis Drug in 2017
Kevzara's growth prospects
On May 22, 2017, Regeneron (REGN) and Sanofi (SNY) announced that they had received approval from the FDA for Kevzara (sarilumab), IL-6 receptor antibody, as a therapy for adult patients suffering from moderate to severe rheumatoid arthritis (or RA). These patients were not responding sufficiently or were intolerant to disease-modifying antirheumatic drugs (or DMARDs).
Kebzara also secured regulatory approval from Health Canada on February 1, 2017, and from the European Commission on June 27, 2017, for the same indication. Regeneron and Sanofi have submitted an application seeking regulatory approval for Kevzara in Japan.
Regeneron and Sanofi are also enrolling patients in a Phase 2 study to evaluate the potential of Kevzara for patients suffering from Polyarticular-course Juvenile Idiopathic Arthritis.
The drug was launched commercially in Canada, European Union, and the US. Kevzara was priced at a wholesale acquisition cost of $39,000 per year, almost 30% lower than the TNF-inhibitors mostly prescribed for RA.
This pricing strategy may play a pivotal role in boosting the uptake of the drug in 2017. This can have a positive impact on Regeneron stock and the iShares Russell 1000 Growth ETF (IWF). Regeneron makes up ~0.32% of IWF's total portfolio holdings.
Article continues below advertisement
Clinical trial results
In the MOBILITY study, RA patients treated with Kevzara and methotrexate demonstrated lower improvement in symptoms compared to those treated with placebo and methotrexate. The study was based on the following measures at the end of the 24-week treatment period:
20% improvement in the American College of Rheumatology Criteria (or ACR20)

50% improvement in the American College of Rheumatology Criteria (or ACR50)

70% improvement in the American College of Rheumatology Criteria (or ACR70)
In the TARGET study, the drug combined with DMARD also showed statistically significant improvement in signs and symptoms based on the ACR20, ACR50, and ACR70 criteria at the end of 24 weeks.
With a safety profile similar to other RA drugs, Kevzara could enable Regeneron and Sanofi to compete effectively with peers such as AbbVie (ABBV) and Johnson & Johnson (JNJ).