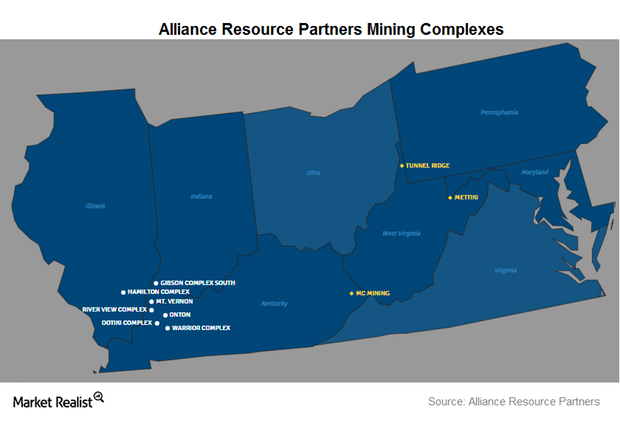 Inside Alliance Resource Partners' Mining Operations
ARLP's mining operations
Alliance Resource Partners (ARLP) operates eight underground mining complexes in two regions: Illinois and Appalachia. These two regions are spread across five states: Illinois, Indiana, Kentucky, Maryland, and West Virginia. ARLP also operates a coal-loading terminal on the Ohio River at Mt. Vernon, Indiana.
The mines use the room-and-pillar mining techniques and a longwall technique to produce coal with varied sulfur and heat contents. ARLP's River View mine complex is currently the largest room-and-pillar underground coal mine in the US.
Other coal (KOL) companies that use longwall mining include Westmoreland Coal (WLB), CNX Coal Resources (CNXC), and Arch Coal (ARCH).
Article continues below advertisement
Mines idled and diversified coal
ARLP's Onton mine was idled in November 2015. The Pattiki mine and Elk Creek mine ceased operations in 2016. All of these mines operated in the Illinois Basin.
ARLP produces a diverse range of steam coals with varying sulfur and heat contents. In 2016, the company produced ~15.2% low-sulfur coal, 63.8% medium-sulfur coal, and 21.0% high-sulfur coal. Coal that has sulfur content below 1.5% is classified as low-sulfur coal, while coal with sulfur content of 1.5%–3% is classified as medium-sulfur coal, and coal with sulfur content greater than 3% as high-sulfur coal. The BTU content of ARLP coal ranges from 11,400–13,200.
Customers
In 2016, 90.3% of coal produced at ARLP mines was sold to electric utilities. These utility plants have pollution-control devices or scrubbers, which eliminate nearly all emissions of sulfur dioxide.
Duke Energy, Louisville Gas, and Electric Company and Tennessee Valley Authority were ARLP's largest customers in 2016. In 2016, ~39.4% of ARLP's total revenues were derived from these three customers.
Now, let's take a closer look at the specific mines that ARLP operates.