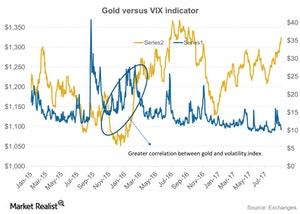 How North Korea Has Affected the Precious Metal Market
Korean tensions
Precious metals have been buoyed by tension in North Korea. If North Korea does another missile test, investors could be prompted to move to haven assets such as gold, silver, Treasuries, and major currencies.
On September 6, US president Donald Trump said that the United States would no longer tolerate North Korea's actions. However, the use of military force against Pyongyang will not likely be its first option. China also seems to be considering its options to keep safe. South Korean protesters clashed with police over the deployment of a defense system to protect them against North Korea.
Article continues below advertisement
Market jolts
Historically, such geopolitical tensions have played a significant role in determining the price of precious metals. Much like in the 2008 crisis, gold and silver have rallied after the breakdown of world economies.
The above chart depicts how gold has reacted to market uncertainties. The volatility index, or the VIX (VIXY) (VXZ), is a measure of market uncertainty. Market risk and gold (GLD) (SGOL) could follow the pattern seen in the graph. Some of the best-performing miners over the past month have been First Majestic Silver (AG), IAMGOLD (IAG), Yamana Gold (AUY), and Harmony Gold (HMY).