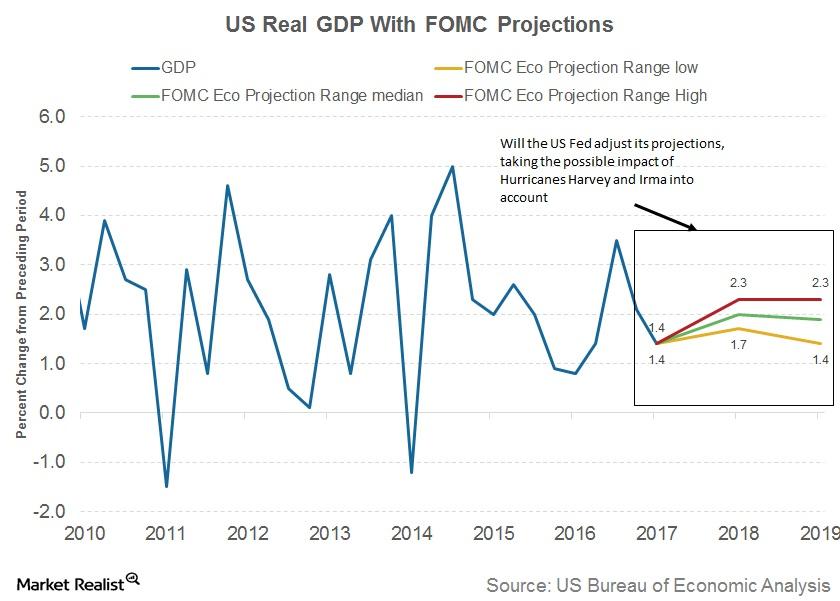 How Has the US Economy Fared since the Last FOMC Meeting?
Economic conditions in the US remain impressive
Since the last FOMC meeting in July, economic conditions in the US have continued to improve. There were a few exceptions in the form of lower retail sales in August, which were reported to fall 0.2% as compared to 0.3% growth in July. There was also a drop in durable goods (XLI) orders and industrial production since the last meeting. These negative numbers are likely to be offset by the growth in business confidence, which came in at 58.8 in August as compared to 56.3 in July. All the three purchasing managers' indexes from the services, manufacturing, and non-manufacturing industries have improved.
Article continues below advertisement
Will hurricanes impact US economic growth?
The US economy rose at a rate of 3% in the second quarter. The growth rate of the US economy continues to improve in the recent months, and the Fed is likely to take note of this improving trend. The impacts of Hurricane Harvey and Hurricane Irma on the economy are likely to be negative. Businesses in the impacted regions are likely to experience some pressure as they recover from the devastation. Texas and Florida are sizeable contributors to the US economy and there could be a drop in their contribution to the US GDP in the third quarter. The rebuilding efforts could lead to an economic burst, but that could take some more time. Housing (REZ) and construction (REM) companies could witness increased demand and help offset the drop in unemployment caused because of these hurricanes.
Will the Fed accommodate these concerns?
Stable inflation (VTIP) and acceptable levels of unemployment are the core mandates for the US Fed. Both these metrics seem to be heading in the right direction at this point. The Fed could take into consideration the impact of the hurricanes, but that factor alone is unlikely to keep the Fed from being hawkish. The Fed could mention a possible slowdown but could remain confident that the recovery would be quick.
In the next part of this series, we'll discuss the possible impact of an uptick in inflation (TIP) on the Fed's decision at its September meeting.