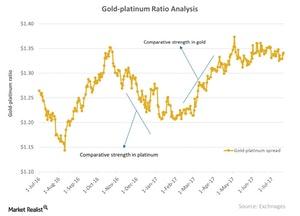 How Gold and Platinum Are Moving in Tandem
Positive outlook
Like silver, platinum has industrial uses and has seen growing demand in China. Platinum is used extensively as a key component in diesel-based car engines, and so the outlook for platinum looks positive because vehicle demand is expected to soar.
Specifically, analysts are expecting the hurricane-impacted people in the US to replace damaged vehicles, while an appreciating South African rand will likely be beneficial for platinum buying. Higher demand from China is also anticipated as new Chinese emissions standards could boost the demand for platinum and palladium.
Article continues below advertisement
The gold-platinum spread
When reading the platinum market, it's crucial to look at the relative performance of platinum and gold by using the gold-platinum spread, which measures the number of platinum ounces it takes to buy an ounce of gold. When the spread increases, the weaker platinum (PPLT) becomes compared with gold. A falling spread indicates the relative strength of platinum next to gold (IAU).
The gold-platinum spread was ~1.4 on September 25, 2017. The RSI (relative strength index) level for the gold-platinum spread is now at 93.9, and such an extravagantly high RSI number indicates that a fall in the spread is coming.
Precious metal mining companies that rise and fall with these metals include Sibanye Gold (SBGL), Harmony Gold (HMY), AngloGold Ashanti (AU), and Alamos Gold (AGI).