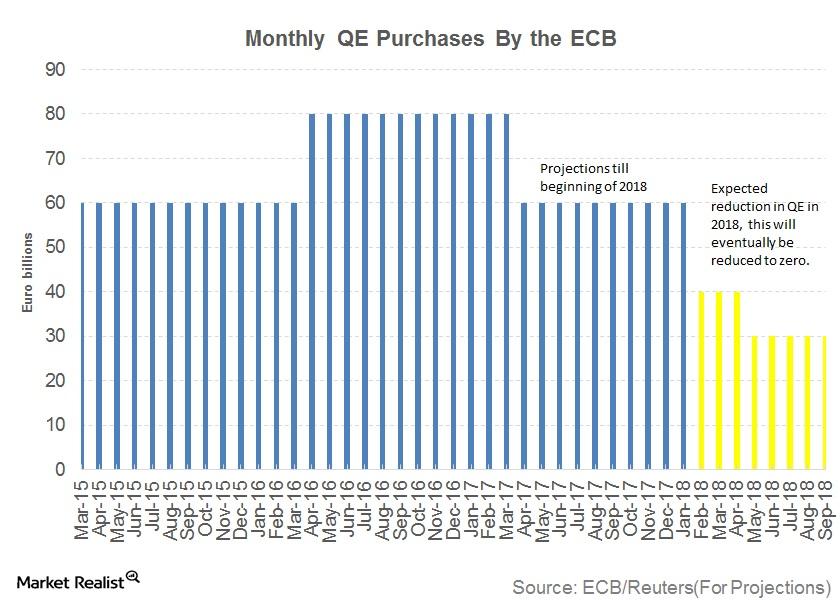 How ECB Tapering Could Impact European Bond Markets
Bond market reaction to the ECB statement
The European bond market's reaction to the ECB's (European Central Bank) September 7 statement has so far been positive. ECB President Mario Draghi said that the decision on the asset purchase program will be taken up at the October meeting, pointing out that the sharp rise in the euro will be considered when making that decision.
Article continues below advertisement
Euro and bond markets
Interest rates and asset purchase programs are key to any fixed income market, but in this scenario, the European currency (FXE) is playing a major part in the price action of bond markets (BND). If the euro (ULE) continues to rise, the ECB is likely to hold off on its tapering signals as a higher euro would limit inflation growth.
What will likely be the ECB's tapering plan?
In the October meeting, the ECB is likely to announce a reduction to its bond buying program, starting in January 2018. The pace of bond purchases could be reduced to 40 billion euros a month, and then after a few months, the purchases could be cut further, with the ECB slowly exiting the bond buying program altogether.
A tapering announcement from the ECB would likely have a positive impact on European bond yields. The impact could be felt more heavily in the peripheral country bond yields of Spain (EWP) and Italy than on Germany (GGOV) and France. The ECB has been helping to keep these bond yields low, but once the lid is off, those periphery bond yields are bound to rise.