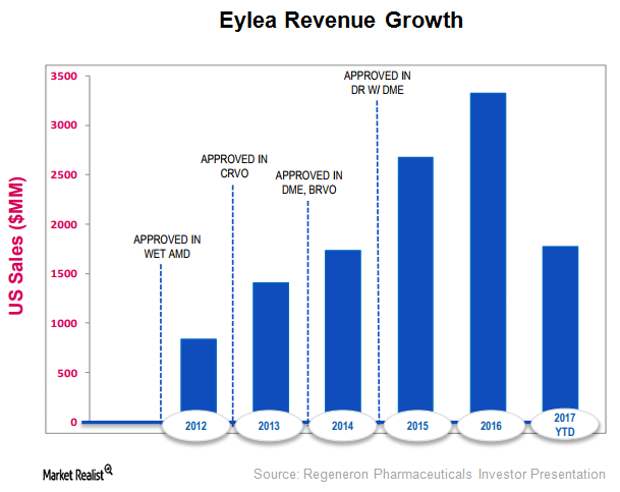 Eylea Leads the Retinal Diseases Sector
Market share of retinal diseases
In 2Q17, Regeneron's (REGN) Eylea accounted for 73% of the dollars spent on the FDA-approved antivascular endothelial growth factor (or anti-VEGF) products in the US, which is a strong rise from its 69% market share in 2Q16.
In 2Q17, the drug reported total sales of $919 million in the US market, which is 11% higher on a year-over-year (or YoY) basis. Eylea's sales in ex-US markets totaled $542 million in 2Q17, which is a YoY rise of ~12%. The drug reported global net sales of $5.2 billion for fiscal 2016. In ex-US markets, Eylea is commercialized by Bayer.
In 1H17, Eylea's total sales rose 10% on a year-over-year basis. In addition to increasing market share, Eylea's sales have also benefited from 7.4% growth in the US anti-VEGF market in 1H17.
Article continues below advertisement
Regeneron has planned to submit supplemental biologics application (or sBLA) to the FDA for securing regulatory approval for a dosage regimen of Eylea once every 12 weeks in wet age-related macular degeneration (or wet-AMD) indication in late 2017. The company plans to submit data from the second year of the Phase 3 studies, which showed that half of the wet AMD patients were treated with every-12-week Eylea dosing.
If Regeneron secures FDA approval for this sBLA, it may have a favorable impact on Regeneron's stock price and the PowerShares QQQ ETF (QQQ). Regeneron comprises ~0.76% of QQQ's total portfolio holdings.
Diabetic retinopathy research program
Regeneron is currently enrolling patients in a Phase 3 trial, PANORAMA, to test the efficacy of Eylea in non-proliferative diabetic retinopathy without diabetic macular edema. The company plans to study the primary endpoint in this study after 24 weeks and 52 weeks, respectively.
The Diabetic Retinopathy Clinical Research Network (or DRCR) is also studying the 16-week dosing regimen of this drug in the same indication in a separate study called PROTOCOL-W.
With Eylea leading the retinal diseases sector, Regeneron is a strong competitor to other biotechnology companies such as Amgen (AMGN), Gilead Sciences (GILD), and Biogen (BIIB).
In the next article, we'll discuss growth prospects for Dupixent in greater detail.