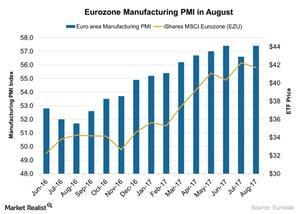 Eurozone's Manufacturing PMI Indicates Healthier Economy
Eurozone manufacturing PMI in August
According to a report by Markit Economics, the final Eurozone manufacturing PMI (purchasing managers' index) improved in August 2017. It stood at 57.4 in August as compared to 56.6 in July. It beat the market expectations of 57.4. Some member countries of the Eurozone such as France (EWQ) and Germany (EWG) saw stronger manufacturing activity in August 2017.
The strong performance in the Eurozone manufacturing PMI in August was mainly due to the following:
Production volume and output rose at a faster pace in August 2017.
New business orders and export orders grew at a stronger pace in August 2017.
Employment growth also rose at a faster pace during the month.
Article continues below advertisement
Impact on the economy
The improvement in manufacturing activity in the Eurozone is signaling that the Eurozone economy is gradually improving. The overall business climate is changing, which is improving the demand outlook for various companies. If this trend continues, we could see a huge opportunity for European equities.
The iShares MSCI Eurozone ETF (EZU) and the Vanguard FTSE Europe ETF (VGK), which tracks the performance of the Eurozone (HEDJ) (FEZ) (IEV), rose marginally in August 2017.
In the next part of this series, we'll look at the performance of Japan's manufacturing PMI in August 2017.