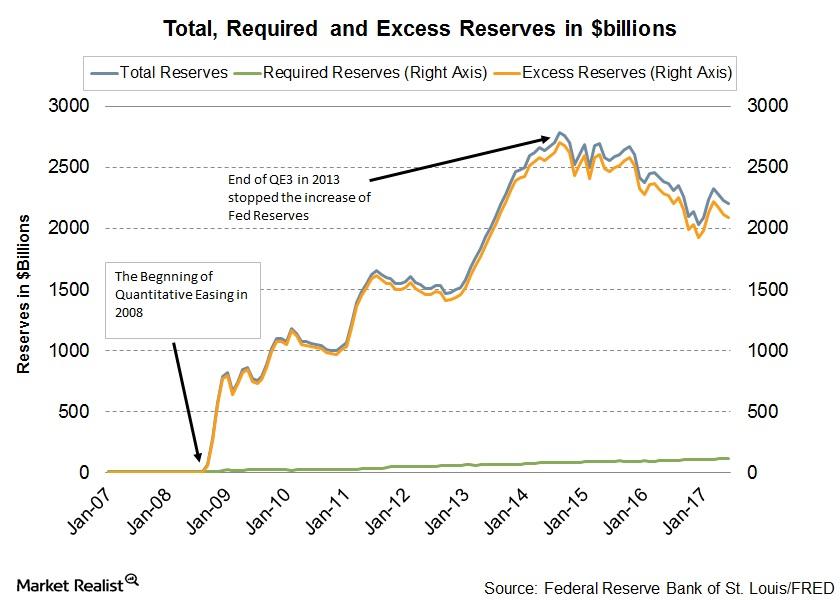 Could the Fed Announce Balance Sheet Shrinking in September?
Will balance sheet shrinking be announced in September?
The Fed, in its efforts to normalize policy, announced that it is starting the balance sheet unwinding program soon. That was communicated through the latest monetary policy statement released after the July FOMC (Federal Open Market Committee) meeting. In its attempt to rescue the US financial system, the Fed started purchasing huge quantities of fixed income securities to keep interest rates low.
Article continues below advertisement
Why does the Fed want to reduce the size of the balance sheet?
The quantitative easing programs (or QE 1, 2, and 3) involved buying US government-backed Treasuries (TLT) and mortgage-backed securities (MBG). In January 2008, the Fed's balance sheet was at $147.0 billion. It rose to $864.0 billion in January 2009 and has ballooned to $4.4 trillion since then. Through the balance sheet unwinding program, the Fed wants to slowly shrink the size of its balance sheet from the current levels. Doing so could give wriggle room for the Fed to face future economic slowdowns.
Why balance sheet unwinding might not have a major impact
The Fed has detailed the balance sheet trimming program along with the monthly limits. It plans to not reinvest the proceeds from maturing securities. There would be monthly offloading targets for various types of securities.
For US Treasuries (SHY) (IEI), the FOMC expects to let $6.0 billion roll off on a monthly basis from its balance sheet. It would increase this amount by $6.0 billion every quarter until it reaches monthly reductions of $30.0 billion.
For agency debt (MINT) and mortgage-backed securities (MBB), this cap would be $4.0 billion per month, rising $4.0 billion every quarter until a cap of $20.0 billion per month is reached.
There might not be a major impact on the markets because of the pace of this balance sheet reduction program. At this pace, it would take decades for the balance sheet to return to normal.