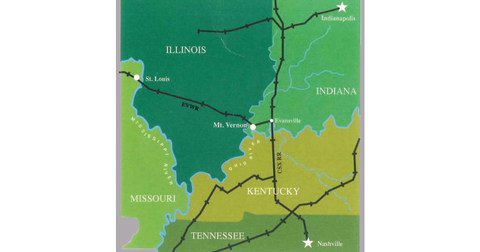 Behind Alliance Resource Partners' Subsidiaries and Transportation
By Alexis Tate

Updated
Transloading facility
Mt. Vernon Transfer Terminal is a subsidiary of Alliance Resource Partners (ARLP) that leases land and operates a coal trans-loading terminal in Mt. Vernon, Indiana, on the Ohio River. Coal is delivered to the terminal by both rail and truck.
The terminal's capacity is 8.0 million tons per year, with ground storage of ~60,000–70,000 tons. In 2016, the terminal loaded ~3.6 million tons for customers of Gibson County Coal, Hamilton, and White County Coal.
Article continues below advertisement
Coal brokerage
An operating subsidiary of ARLP, Alliance Coal, purchases coal from ARLP's mining operations and from outside producers in the Eastern US, and then the coal is resold. In 2016, no outside coal purchases were made.
Matrix Group
ARLP acquired this business in September 2006. Matrix Group provides various products and services including miner and equipment tracking systems and proximity detection systems. It provides a variety of mining technology products and services for ARLP's mining operations.
Article continues below advertisement
Alliance Minerals
On November 10, 2014, Alliance Minerals purchased a 96% ownership interest in Cavalier Minerals, which has limited partner interest in AllDale Minerals, an entity created to purchase oil and gas mineral interests in different geographic locations in producing basins in the continental US.
Coal transportation
ARLP supplies coal to its customers by rail, barge, and truck. ARLP's mines are located in favorable geographic locations that minimize transportation costs for customers. In 2016, ~38.2% of ARLP's shipments were through rail, while 42.5% was shipped from the mines by barge, and 19.3% was shipped from the mines by truck.
In 2016, CSX railroad was Alliance Resource Partners' largest volume transporter and shipped ~23.4% of ARLP's coal. Notably, coal (KOL) peers Westmoreland Coal (WLB) and Arch Coal (ARCH) also depend on CSX for transportation of coal.