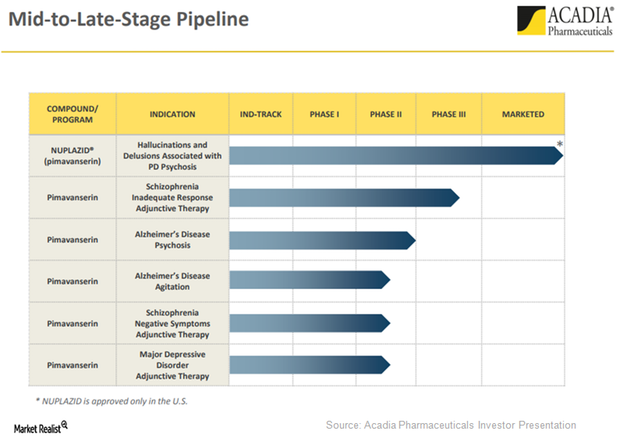 Nuplazid for Long-Term Care: Revenue Driver for Acadia?
Long-term care
Acadia Pharmaceuticals (ACAD) plans to focus on long-term care (or LTC) facilities to boost Nuplazid's adoption in the Parkinson's disease (or PD) psychosis indication. PD patients who are admitted to a long-term care facility are found to be generally suffering with psychosis. So long-term care can prove to be a major source of new patients for Nuplazid. With the new nursing home interpretive guidance recognizing PD psychosis as a progressive disease, Nuplazid may further position itself as a necessary intervention for patients in LTC settings.
Acadia Pharmaceuticals previously estimated its business exposure to the specialty distributor channel at around 20.0%. However, the company now expects to earn up to 25.0% of its business from this channel that services LTC facilities and programs such as Veteran Affairs and TRICARE.
Article continues below advertisement
If Acadia Pharmaceuticals manages to effectively leverage the growth opportunity available for Nuplazid in the LTC setting, it may have a favorable impact on ACAD stock as well as the stock of the Vanguard Small-Cap Growth ETF (VBK). Acadia Pharmaceuticals makes up about 0.23% of VBK's total portfolio holdings.
Label expansion
In addition to PD psychosis, Nuplazid (pimavanserin) is being explored in multiple neurology indications. The drug has demonstrated efficacy and safety in Phase 2 trials that are evaluating it in Alzheimers' disease psychosis. The company has also completed an end of Phase 2 meeting with the FDA (U.S. Food & Drug Administration) to discuss results from the Phase 2 trials and design a Phase 3 trial, expected to begin in late 2017. Additional data from the Phase 2 trials are expected to be released in the presentation at the clinical trials on Alzheimer's disease meeting.
Since there are no FDA-approved medications for AD psychosis, this indication may prove to be a solid growth driver for Nuplazid. Nuplazid is thus expected to enable Acadia Pharmaceuticals to become a prominent antipsychotic player similar to its peers Novartis (NVS), Pfizer (PFE), and Allergan (AGN).