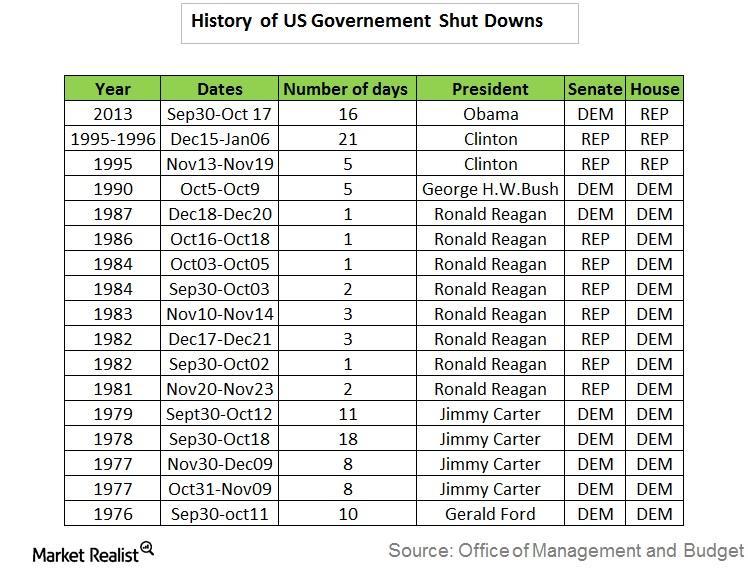 Why the US Government Has Been Shut Down Before
By Ricky Cove

Aug. 25 2017, Updated 9:07 a.m. ET
A brief history of US government shutdowns
US Congress will have to raise the debt ceiling to keep the US solvent. A failure to raise the debt ceiling will likely result in a US government shutdown and a default by the US, which could be catastrophic for the global economy and financial markets (VTI) (USMV).
The US government has shut down before in the following instances:
2013: Republican Party blocked funding for Obamacare by rejecting the debt ceiling increase and a shutdown began in October 2013. The government shut down for 17 days until the debt ceiling was raised on October 17, 2013.
1995: The US government was shut down twice under President Clinton between November 14 and November 19 of 1995 and December 15, 1995, and January 6, 1996.
Article continues below advertisement
What happens when the US government shuts down?
When the US government shuts down, federal employees are asked to go on a leave of absence, the US Treasury can't raise funds by Treasury (GOVT) (SCHO) auctions, and thus cannot make payments if the government receipts are lower than its outlays, thereby ending pension payments and social security payouts. All government services will take a hit, which will disrupt the country's functioning.
Key consequences for financial markets
Investors will likely panic and bond yields (HYG) will likely shoot up as foreign governments and institutions that own US Treasuries could sell their holdings. US interest rates will increase, which in turn would increase the cost of funds for businesses, thereby slowing economic growth.
In the next part of the series, we'll try to understand if there is a solution for this debt crisis.