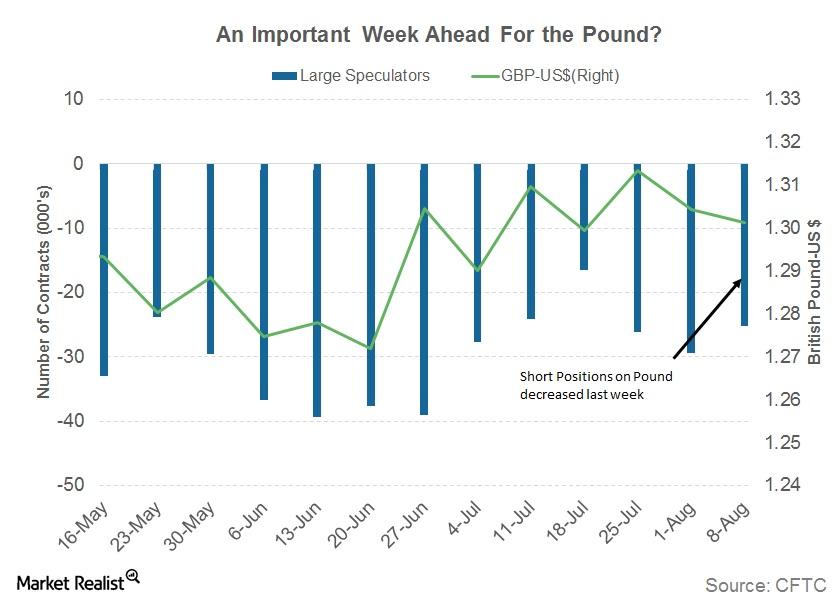 Why the British Pound Has an Important Week Ahead
British pound posted losses amid geopolitical pressures
The British pound (FXB) had another negative week as a dovish statement from the Bank of England continued to drag the currency lower. The pound (GBB) posted a weekly loss of 0.18%, closing at 1.30 against the US dollar (UUP) in a week filled with geopolitical tensions. The limited fall in the British pound despite economic fundamentals signaling further weakness was surprising. Brexit negotiations continue to weigh on the pound as hopes for a positive solution remain low. With no announcement with respect to the Brexit negotiations, markets began speculating that the negotiations could take longer than the stipulated two-year period.
British equity markets (BWX), especially the FTSE 100, turned negative in the previous week, reflecting the global sentiment. The FTSE 100 Index posted a loss of 2.7% for the week ending August 11.
Article continues below advertisement
Article continues below advertisement
Speculators continued to reduce short positions
As per the latest Commitment of Traders report, released on August 11 by the Chicago Futures Trading Commission, pound speculators have reduced 4,292 contracts against the British pound, taking the net short position to -25,160.
An important week ahead for the British pound
There is a considerable amount of economic data in regards to the British economy to be released this week. Inflation data is scheduled to be reported on Tuesday, labor market data on Wednesday, and retail sales data on Thursday. Labor market conditions are expected to improve, while inflation (TIP) and retail sales data could signal weakness. The longer-term outlook remains weak for the British pound, and this week could be no different unless economic data surprise market participants.