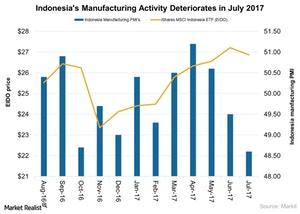 Why Indonesia's Manufacturing Activity Fell
Manufacturing activity in Indonesia
In July 2017, manufacturing activity in Indonesia (EIDO) fell at the fastest pace in 19 months, mainly due to sharp decline in its output. Indonesia'S (EEM) manufacturing PMI (purchasing managers' index) fell to 48.6, compared with 49.5 in June 2017, according to an IHS Markit report. New orders also fell in July 2017, in line with the previous month.
Article continues below advertisement
Manufacturing activity in July 2017
The Indonesian (IDX) manufacturing PMI's sharp decline was mainly due to a sharp drop in output. The decline in new orders resulted in an accelerated fall in production in July 2017. Weak demand, difficult economic conditions, and the postponement of client orders led to a production decline.
Weak international demand
The external demand for Indonesian (ASEA) manufactured goods also declined, resulting in a drop in the overall new work orders. New export orders were down slightly in July 2017, ending three months of expansion.
Article continues below advertisement
Purchasing activity and employment
Reduced spending from weaker demand resulted in a decline in purchasing activity and jobs in July 2017. Purchasing dropped for the first time since January 2017, and job shedding continued for a tenth month. Price pressures remained low as input costs increased at the slowest rate year-to-date and output prices were at a two-month low.
Expectations
Weak operating conditions in Indonesia (IEMG) affected business sentiment. However, companies still expect output to increase in the next 12 months. In July 2017, confidence dropped to its lowest level since April 2013.
In 2017, exports are expected to improve, with solid global (ACWI) growth and higher commodity (DBO) prices. The surge in commodity prices is expected to improve the performance of primary sectors such as mining and agriculture. The improvement in the primary sector is also expected benefit secondary sectors such as manufacturing. Let's look at consumer confidence in Indonesia in our next article.