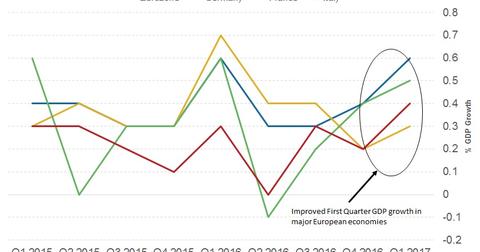 Why Draghi Is a Person of Interest at Jackson Hole
By Ricky Cove

Aug. 24 2017, Published 3:29 p.m. ET
Draghi scheduled to speak on August 25
ECB (European Central Bank) President Mario Draghi is scheduled to speak at this year's Jackson Hole Symposium on August 25, 2017. Draghi will be attending the symposium after a hiatus of three years. The last time he was here, he surprised markets with his view of low inflation in the Eurozone, which later led to the ECB to introduce accommodative monetary policy measures.
Markets have speculated that the ECB president could use this platform to signal the tapering of the QE (quantitative easing) program in the Eurozone.
Article continues below advertisement
Current ECB stance on QE
The ECB left policy unchanged at its recent meeting, and the minutes of this meeting indicated no plans for tapering its current purchase program of 60 billion euros per asset.
According to the latest communications from the ECB, the asset purchase program will continue as planned, and members will not likely discuss any changes to the program until the December 2017 ECB meeting.
What Draghi could talk about
The big question before the start of the 2017 Jackson Hole Symposium revolves around what Mario Draghi will talk about. In the latest news reports, anonymous sources have confirmed that Draghi will likely talk about QE tapering. If he does so, we can expect the euro (FXE) to appreciate sharply, and European stocks (VGK) and bond markets could turn negative. An opposite reaction—albeit, a mild one—could be seen if Draghi avoids the topic altogether.
The bottom line is that whatever Draghi talks about, there will likely be a considerable market (HEDJ) reaction. The euro could be volatile before and after his talk. European equities (EZU) will likely be impacted marginally, while European bond markets (BWX) could turn volatile—if there's talk of tapering.