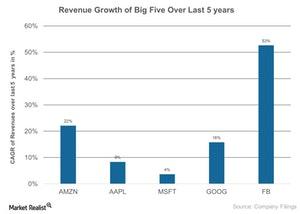 Why Big Five Tech Companies Could Keep Dominating Markets
By Mary Sadler

Aug. 9 2017, Updated 3:06 p.m. ET
Big tech companies to dominate in 2017
The big technology companies (XLK) are expected to continue dominating the markets (SPY) (QQQ) thanks to their size, innovations, acquisitions, and investments in 2017. Due to their large size, these big technology companies have the research and investment budgets to continue innovating and thus lead the market, according to Ann Winblad. These companies over the years have built business ecosystems that attract smaller companies, which have helped them to scale to their current levels.
Article continues below advertisement
As per the PWC 2017 technology trends report, the big five technology companies including Alphabet (GOOG), Facebook (FB), Amazon (AMZN), Microsoft (MSFT), and Apple (AAPL) are expected to dominate the markets (IVV) in 2017. Let's look at the performance of a key metric, revenue growth, over the last five years in the below chart.
Revenue growth over the last five years
The big five companies reported impressive quarterly results in June 2017. All of them saw a rise in their top line as compared to the same period last year. On similar lines, these companies saw massive growth in revenue over the last five years, as seen in the chart above. Facebook saw the fastest compounded average growth in revenues over the last five years at 53%, as it continues to add new users and expand its mobile advertising business. Amazon and Alphabet saw revenue growth of about 22% and 16%, respectively, in the same period. The primary growth driver for these companies includes their investments in innovation and acquisitions.
Article continues below advertisement
Innovation
According to Ann Winblad, the big five continue to reinvest most of their profits in research and development in hot areas like machine learning, autonomous vehicles, digital healthcare, and smartphone operating systems. According to a PWC report on 2017 technology trends, these companies have averaged about $44 billion per year in innovation spending in the last five to six years.
The investments in subsectors like cloud technology and artificial intelligence are expected to drive growth and profit for these companies. The increased investments by Amazon, Alphabet, and Microsoft in the expanding public cloud infrastructure market are expected to boost the growth and profits for these companies.
Acquisitions and investments
According to Winblad, large, cash-rich companies like Alphabet, Apple, and Microsoft can grow inorganically through acquisitions. Microsoft's large acquisition last year of LinkedIn for $26.2 billion brought about nearly $1 billion in revenue to Microsoft's 1Q17 earnings.
Winblad said that the big five have also placed bets for the distant future by investing in small-sized companies. Google has been a prolific investor over the last five years with the acquisition of almost 11 artificial intelligence start-ups, according to CB Insights research firm. The big five companies have invested in a number of small companies that will add to their capabilities including artificial intelligence, cyber security, digital healthcare, and auto technology.