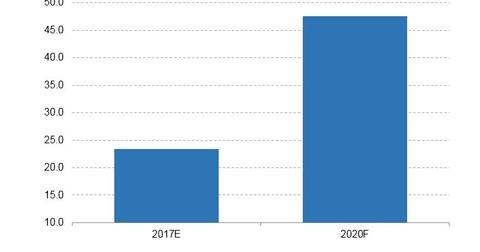 Why Amazon Would Want To Acquire bigbasket
By Ruchi Gupta

Updated
Jostling for India's promising startups
Amazon (AMZN) is in talks to acquire India's online grocery retailer bigbasket, according to a Bloomberg report. The talks between Amazon and bigbasket are said to be in the early stages, and there is no guarantee that a deal will be reached. India's retail potential has drawn the interest of many investors in recent years, and promising e-commerce startups such as bigbasket are attractive propositions for companies seeking a stronger footprint in the country. The report stated that bigbasket was also in talks with a private equity firm.
Article continues below advertisement
Amazon could learn survival tactics from bigbasket
There are two notable accomplishments in bigbasket's profile that could make it an attractive asset to Amazon. The Bloomberg report stated that bigbasket is growing its revenue rapidly and has exited losses in several markets. In at least two Indian cities, bigbasket's operations have broken even. The company operates in 25 cities.
The rapid revenue growth and the breakeven milestone suggest that bigbasket has mastered the art of survival in India's highly competitive food retail sector. Snapdeal, one of India's e-commerce operators, has struggled to keep up with competition and is reported to be seeking to sell itself to rival Flipkart.
Amazon and rivals eye $47.5 billion in India
Flipkart is a partner of Amazon rival eBay (EBAY). Other Amazon rivals, such as China's (MCHI) Alibaba (BABA) and Walmart (WMT), are also making inroads in India's e-commerce sector. To bolster its fortunes in India, Amazon has committed to investing $5 billion in its operations in the country. Research company eMarketer forecasts that India's online retail sales will reach $47.5 billion by 2020, compared with $23.4 billion this year.