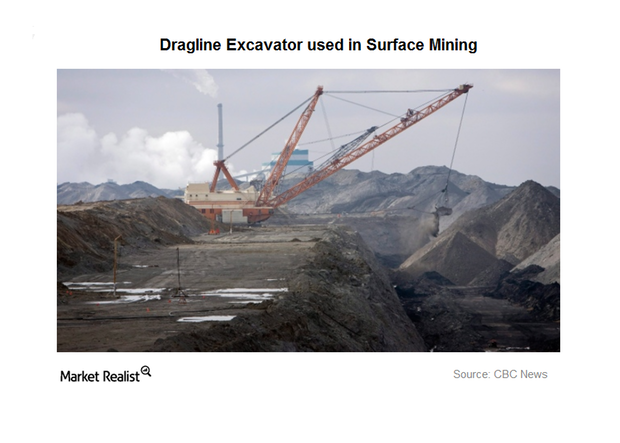 Westmoreland Coal's Canadian Operations: An Overview
Westmoreland's Canadian operations
Westmoreland Coal (WLB) acquired seven surface mines in Alberta and Saskatchewan, a stake in an activated carbon plant, and a char plant in Canada from Sherritt International in 2014. As of January 1, 2016, WLB's Canadian operations are grouped as one entity, Prairie Mines & Royalty ULC.
Its Canadian operations hold total reserves of ~390 million tons. Coal reserves in Canada are operated by provincial governments. WLB has gained access to the reserves either through freehold ownership, provincial crown leases, subleases, or third-party leases. Most the coal produced is sold to Canadian utilities to produce electricity.
Article continues below advertisement
 
Surface mines
The Canadian operations include seven mines:
Estevan (Saskatchewan)
Boundary Dam (Saskatchewan)
Poplar River (Saskatchewan)
Genesee (Alberta)
Paintearth (Alberta)
Sheerness (Alberta)
Coal Valley Mine (Alberta)
Of these mines, six are operational, five serve customers in the vicinity using conveyor belts, and one (Coal Valley) focuses on the seaborne coal market.
Article continues below advertisement
Carbon plant
WLB co-owns an activated carbon plant with Cabot. The plant, which was initially commissioned in June 2010, is located at WLB's Estevan mine. The activated carbon produced is sold to coal-fired power producers to be used for mercury removal from flue gas emitted into the atmosphere.
Char plant
Approximately 100,000 tons of lignite char is produced annually at its char plant, using coal from the Estevan mine. The char is then sold to manufacturers of barbecue briquettes in the United States.
Mining methods
Westmoreland's Canadian operations contain six operational surface mines. The company uses dragline excavators to extract coal from these mines. This method of mining is simple and cost effective.
Overall, the company's operations are cost competitive with those of peers (KOL) Arch Coal (ARCH) and Alpha Natural Resources (ANRZQ). Next, we'll look at WMLP's operations.