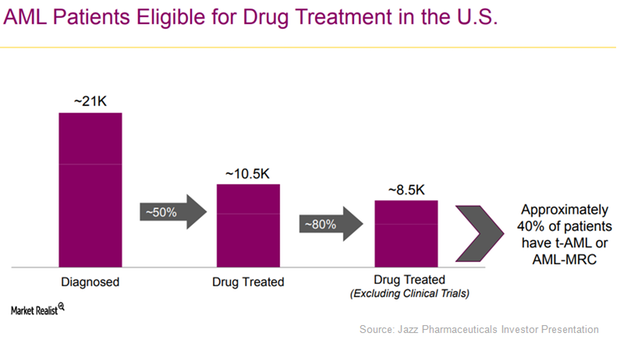 What Jazz Pharmaceuticals Expects for Vyxeos
FDA approval
On August 3, 2017, the FDA approved Jazz Pharmaceuticals' (JAZZ) Vyxeos as a treatment option for adults suffering from either newly diagnosed therapy-related acute myeloid leukemia (or t-AML) or from AML with myelodysplasia-related changes (or AML-MRC). This approval, which has been granted two months ahead of schedule, is partly attributed to Celator's robust design of the phase three clinical trial that evaluated Vyxeos in these indications and led to the drug receiving a breakthrough therapy designation from the FDA in May 2016. To know more about Jazz Pharmaceuticals' acquisition of Celator, please read A Look at Jazz Pharmaceuticals' Celator Acquisition Deal.
Around 75,000 patients are diagnosed with AML globally every year. Of these, around 21,000 patients are from the US, 20,000 are from the European Union, 4,000 are from Japan, and close to 30,000 are from rest of the world markets.
Article continues below advertisement
Article continues below advertisement
The above diagram shows the prevalence of the conditions targeted by Vyxeos in the US market. If Vyxeos manages to penetrate a sizeable portion of the target market, it may have a favorable impact on Jazz Pharmaceuticals' share prices as well as those of the PowerShares Dynamic Pharmaceuticals Portfolio (PJP). Jazz Pharmaceuticals makes up about 2.4% of PJP's total portfolio holdings.
Targeted efforts
Jazz Pharmaceuticals plans to focus its sales efforts on 75 accounts involving high volume community hospitals, teaching hospitals, as well as small physician practices with multiple hematologists and oncologists in the first four to six weeks after its launch in US markets. These medical institutions rank in the seventh to tenth decile in terms of volumes of AML patients treated. While the academic hospitals in the US account for only 6% of the total institutions treating AML patients, around 47% of the AML patients are treated in these hospitals. Thus, to increase the adoption of Vyxeos rapidly, Jazz Pharmaceuticals has prioritized these academic centers.
A targeted commercial strategy for Vyxeos is expected to increase the chances of Jazz Pharmaceuticals becoming a prominent AML player, similar to peers such as Celgene (CELG), Agios Pharmaceuticals (AGIO), and Novartis (NVS).
In the next article, we'll discuss Jazz Pharmaceuticals' sales strategy for Vyxeos.