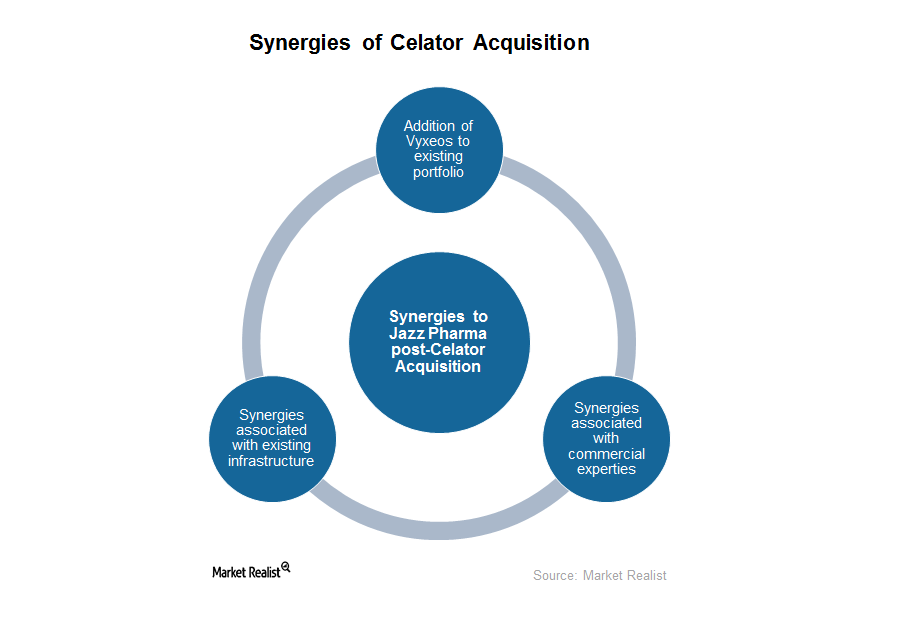 A Look at Jazz Pharmaceuticals' Celator Acquisition Deal
Details of the Jazz-Celator merger
On May 31, 2016, Jazz Pharmaceuticals (JAZZ) announced a definitive agreement to acquire Celator Pharmaceuticals for a consideration of $1.5 billion. That translates to a price per share of $30.25 to Celator shareholders. On July 12, 2016, Jazz announced the completion of the acquisition by its subsidiary Plex Merger Sub.
The above chart presents synergies associated with the acquisition. Through the Celator acquisition, Jazz will gain worldwide development and commercialization rights to Vyxeos, which would result in product portfolio expansion for Jazz.
Jazz's portfolio can be divided into sleep and hematology/oncology, which targets orphan diseases. For details on Jazz's product portfolio, you can refer to How Did Jazz Pharmaceuticals' Products Perform in 2015?
Article continues below advertisement
Article continues below advertisement
Why the increase in M&As in the pharmaceutical and biotechnology space?
The Celator acquisition would offer Jazz synergies associated with commercial expertise and infrastructure. The objective would remain to broaden its hematology/oncology portfolio. In the next part of this series, we'll look in detail at Jazz's portfolio and how it would benefit from the addition of Vyxeos.
The pharmaceuticals industry is undergoing consolidations. Large pharmaceuticals are eyeing development stages of smaller companies. Sanofi's (SNY) interest in Medivation (MDVN) and Pfizer's (PFE) acquisition of Anacor Pharmaceuticals (ANAC) indicate increased movement in the M&A (merger and acquisition) space.
The recent Shire- (SHPG) Baxalta deal is one of the most prominent deals of fiscal 2016. With patent expirations, big pharmaceutical companies are exposed to the threat of declining sales. Acquiring development-stage companies means portfolio expansion for these giants.
Note that any investment in pharmaceutical or biotechnology companies is very risky. If you're a risk-averse investor, you can enjoy exposure to Jazz Pharmaceuticals but play safe by investing in the iShares Nasdaq Biotechnology (IBB). The fund holds 1.5% of its total assets in Jazz.