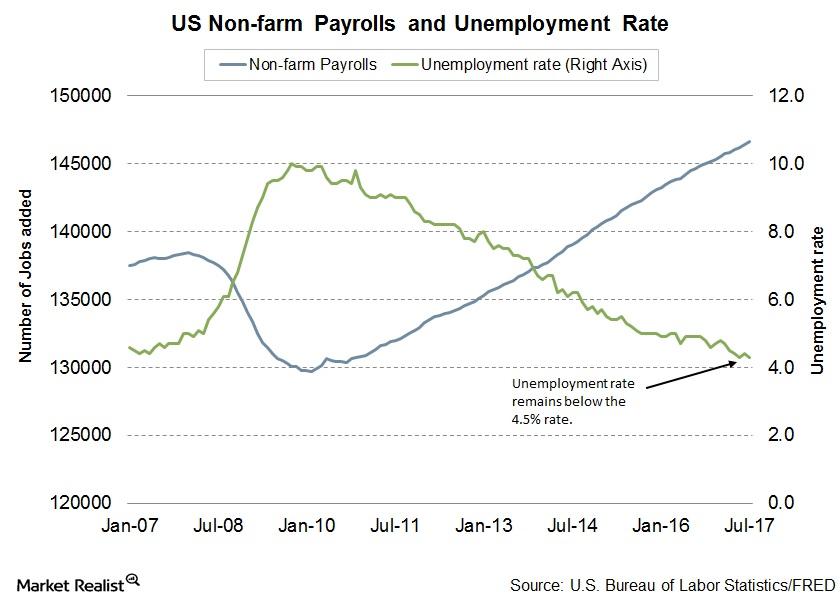 Tax Reforms and Jobs Could Drive the Last Week of Summer
<p>Any negative news from the jobs report will be foreshadowed by the tax reform news. It&#8217;s the last jobs report before the September FOMC meeting.</p>
Tax reform expectations
As political uncertainty and the debt ceiling drama were unfolding, President Trump's chief economic advisor, Gary Cohn, told Financial Times that President Trump will be calling for tax reforms during his visit to Missouri. His visit is scheduled for August 30. If President Trump makes an announcement, equity markets (VOO) will likely appreciate. However, investors must remember that the stock rally since the presidential election has priced in the tax cuts. So, predicting the extent of the appreciation could be difficult in the short run.
Article continues below advertisement
Article continues below advertisement
Last jobs report before the Fed's September meeting
The non-farm payroll data for August will be reported on Friday. The data could lead to some volatility (VXX) in the bond (BSV) and currency markets. The markets are expecting strong job growth to continue and the unemployment rate to remain at 4.3%. The weekly jobless claims crept marginally higher and a few other industry-related economic reports were below the expectations. Any negative news from the jobs report will be foreshadowed by the tax reform news. It's the last jobs report before the September FOMC meeting. However, the markets (BLV) aren't expecting any changes to the policy in this meeting. An announcement on balance sheet unwinding is expected, which likely won't have a major impact on the markets.
Debt ceiling drama and tax reforms 
The last week of the summer is usually low on liquidity, which leads to more volatility if any surprise hits the markets (IJH). This week, investors need to watch for developments surrounding the debt ceiling debate amid President Trump's warning of a government shutdown. The impact of an escalated debt ceiling debate could last for weeks until the final debt ceiling deadline on October 15. This week, uncertainty could slow down with a tax reform announcement.