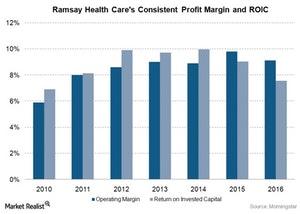 How Ramsay Health Care Became a Cost Leader
Ramsay Health Care (RHC AU) is Australia's largest private hospital operator and has been given a "narrow economic moat" rating from Morningstar due to its competitive cost advantages. Ramsay operates more than 200 hospitals and day surgery facilities and employs more than 60,000. Ramsay owns and runs the highest quality private hospitals in Australia which enables it to generate strong returns on capital. Ramsay is a cost leader with considerable pricing power, given its negotiating strength with Australia's private health insurance funds. Ramsay has branched out to the U.K. and France, successfully exporting its culture of cost control and high levels of customer service. Morningstar asserts that Ramsay offers "quality healthcare/services at the lowest cost of all private hospitals in Australia….and has historically delivered the highest industry profit margins when compared to its main competitor, Healthscope."
Article continues below advertisement
VanEck Vectors Morningstar Wide Moat ETF (MOAT) and VanEck Vectors Morningstar International Moat ETF (MOTI) provide access to global moat-rated companies, by seeking to replicate the Morningstar Wide Moat Focus IndexSM and Morningstar Global ex-US Moat Focus IndexSM, respectively. Each Index tracks the overall performance of attractively priced companies with sustainable competitive advantages in their respective markets according to Morningstar's equity research team.
Market Realist
How Ramsay Health Care obtained a competitive advantage
Sydney-based Ramsay Health Care operates more than 220 hospitals and day surgery facilities. The company provides healthcare (XLV) (IBB) (VHT) services in Australia, the United Kingdom, France, Indonesia, and Malaysia.
Ramsay Health Care has an economic moat because of its absolute competitive advantage gained through its scale of operation, customer service at a lower cost, and other strategies as shown in the chart below. Ramsay Health Care is a market leader in private healthcare in Australia, treating almost 3 million patients each year.
Ramsay Health Care has maintained a sustainable level of earnings in the last few years through careful financial management. The company has a competitive edge through its strategically positioned portfolio of hospitals and diversified income streams, including 45% from government contracts.
Ramsay Health Care's cost control strategy includes reducing staff size and supply costs, focusing on revenue enhancement activities, and reducing unnecessary administration costs. The company maintains a strong financial position due to its steady growth in revenues and earnings.
Ramsay Health Care's annual revenues have grown from $3.3 billion Australian in 2010 to $8.6 billion Australian in 2016. Its earnings have grown 20.0% annually over the same period. The company also has maintained a consistent return on invested capital and profit margins since 2010, as shown in the chart above. Ramsay Health Care's competitors include Healthscope Limited in Australia as well as HCA Healthcare (HCA) and Universal Health Services (UHS) in the US.
Ramsay Health Care has obtained a narrow economic moat rating from Morningstar, led by its ability to reinvest capital into its business and earn above-average returns consistently.