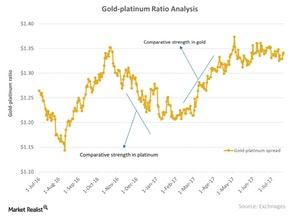 Platinum Market: Reading the Gold-Platinum Ratio
By Meera Shawn

Updated
Platinum market
When analyzing the precious metal market, platinum and palladium often take the backseat, while gold and silver get all of the attention. In this series, we'll look at platinum and palladium and their relationship with gold.
Platinum has seen the highest price rise among all of the precious metals over the past 30 trading days. Initially, platinum used to be more expensive than gold. As a result, it was given a higher pedestal than gold in the jewelry market. Platinum bottomed close to $800 during the 2008 crisis. It had almost doubled in price by 2010.
Platinum consumption in the industrial sector is expected to rise 1% in 2017 due to minor growth in fuel cell and turbine engine demand.
Article continues below advertisement
Gold-platinum spread
When reading the platinum market, it's important to look at the relative performance of platinum and gold by using the gold-platinum ratio, also known as the "spread." The spread measures the number of platinum ounces it requires to buy one ounce of gold.
When the spread increases, the weaker platinum (PPLT) becomes compared to gold. A falling ratio indicates the relative strength of platinum over gold (IAU).
The ratio falls as the price of platinum steadily increases in comparison to gold.
The gold-platinum spread was ~1.31 on August 3, 2017. The RSI (relative strength index) level for the gold-platinum spread is at 39.3.
Precious metal mining companies that rise and fall with these metals include Sibanye Gold (SBGL), Harmony Gold (HMY), AngloGold Ashanti (AU), and Alamos Gold (AGI).