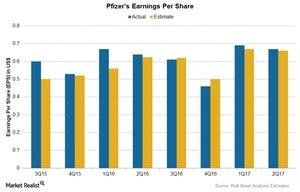 Pfizer's 2Q17 Earnings: What You Need to Know
By Mike Benson

Aug. 11 2017, Published 3:59 p.m. ET
A look at Pfizer's earnings
Pfizer (PFE) reported a 2% decline in its top line in its 2Q17 earnings, which were released on August 1.
The company missed Wall Street analysts' 2Q17 estimates for revenues but beat analysts' estimates for earnings-per-share or EPS and reported EPS of $0.67 on revenues of $12,896 million for 2Q17, compared to estimates of $0.66 and revenues of $13,082 million for 2Q17. The above chart compares analysts' estimated EPS and actual EPS over the last few quarters.
Article continues below advertisement
2Q17 performance
Pfizer's top line fell 2% to ~$12.89 billion for 2Q17, driven by flat operating revenues that were offset by a 2% negative impact of foreign exchange. However, excluding Hospira products, Pfizer reported operational growth of 2% in 2Q17, offset by a 2 % negative impact of foreign exchange.
Pfizer's revenue growth was driven by strong performance of Lyrica, Ibrance, Eliquis, and Xeljanz from its Innovative Health business, partially offset by the lower sales from the Essential Health business. At constant exchange rates, the Innovative Health segment reported 9% growth while the Essential Health segment reported a 12% decrease in revenues in 2Q17.
Geographically, US markets contributed 49.2% of total revenues at $6.34 billion for 2Q17, a marginal decrease compared to $6.37 billion in 2Q16. For International markets, sales fell 3% to $6.55 billion for 2Q17, contributing ~50.8% of total revenues.
TheiShares US Pharmaceuticals ETF (IHE) invests 8.5% of its total assets in Pfizer (PFE). IHE also invests 10.4% of its total assets in Johnson & Johnson (JNJ), 7.7% in Merck and Co. (MRK), and 6.7% in Bristol-Myers Squibb Co. (BMY).