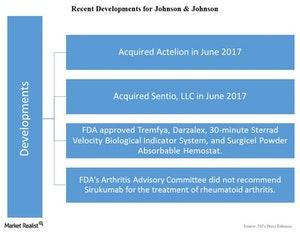 Major Developments for Johnson & Johnson in 2Q17
By Mike Benson

Aug. 30 2017, Updated 9:07 a.m. ET
Major developments
All of Johnson & Johnson's (JNJ) segments performed positively in 2Q17. In this part. we'll look at some developments that occurred during the quarter.
Article continues below advertisement
Pharmaceuticals
On August 21, 2017, Johnson & Johnson presented new data for its COMPASS study, a phase III study evaluating Xarelto as a treatment for coronary and peripheral artery disease.
On August 2, 2017, the FDA announced that the Arthritis Advisory Committee has not recommended the drug Sirukumab for the treatment of rheumatoid arthritis.
On August 2, 2017, the FDA approved Imbruvica (ibrutinib) for the treatment of chronic graft-versus-host disease.
On July 26, 2017, Janssen Pharmaceuticals and Bavarian Nordic announced their collaboration for hepatitis B and HIV-1 vaccines.
On July 13, 2017, the FDA approved Tremfya (guselkumab) for the treatment of patients with moderate-to-severe plaque psoriasis.
On June 28, 2017, the FDA granted priority review to the supplemental new drug application for Xarelto 10mg (milligram) in reducing the risk of recurrent venous thromboembolism in patients who have undergone at least six months of standard anticoagulation therapy.
On June 16, 2017, Johnson & Johnson completed the acquisition of Actelion, a leading biopharmaceutical company.
Medical devices
On June 27, 2017, DePuy Synthes announced the acquisition of Innovative Surgical Solutions, a privately-held company, for its innovative nerve localization technology used in spinal surgeries.
On June 21, 2017, the FDA granted clearance to the 30-minute Sterrad Velocity Biological Indicator System for low-temperature hydrogen peroxide sterilization. The system will enable hospitals to run sterilization processes multiple times in a day, reduce infections acquired by healthcare devices.
To divest company-specific risks, investors could consider the First Trust NASDAQ Pharmaceuticals ETF (FTXH), which has an 8.7% exposure to Johnson & Johnson (JNJ). FTXH also holds 9.1% of its total assets in Abbott Laboratories (ABT), 8.6% in Pfizer (PFE), and 4.5% in Bristol-Myers Squibb (BMY).