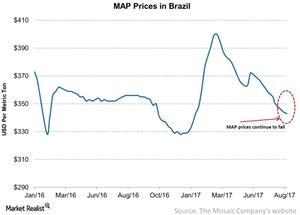 No Hope for MAP Prices in Brazil: Week Ending August 18
MAP prices
Article continues below advertisement
Weekly movements
Last week, MAP prices in Brazil fell as much as 0.29% week-over-week to $343 per metric ton from $344 per metric ton. MAP prices were almost 14.3% lower from the peak of $400 per metric ton in March 2017.
Earlier in this series, we noted that MAP prices continued to trend lower and headed towards the bottom of $328 per metric ton observed in December last year. Amid these lower price realizations, producers managed to lower their cost of production. However, their efforts weren't enough to keep the margins from contracting. These conditions have impacted phosphate producers so much that some of them even reported negative margins in the second quarter.
To learn more, read Big Fertilizer: Comparing the Major Players' 2Q17 Results.
PotashCorp has maintained a weak outlook for phosphate prices. Mosaic, one of the largest phosphate fertilizer producers in North America, has seen one of its worst years. So far, Mosaic has returned losses of 33% this year.
In the next part, we'll discuss potash fertilizers.