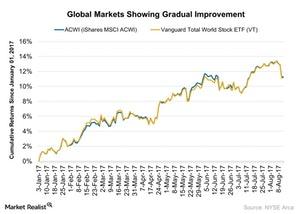 The Latest Key Economic Indicators from Developed Nations
Key economic indicators
Indicators are important for investors and market participants because they show the actual picture of a country's economic health and help investors to identify short-term economic trends and changes in market sentiments.
Article continues below advertisement
Series overview
In this series, we'll take a look at the services PMIs for major developed nations including the United States (QQQ) (IWM), France, Germany, Spain, the Eurozone, Japan, and the UK. The services PMIs showed somewhat weaker figures for July 2017. Services PMI reports indicate the trend of service activity, new orders, export orders, and employment numbers in an economy.
In the next part of this series (below), we'll analyze the performance of the US Services PMI for July 2017.