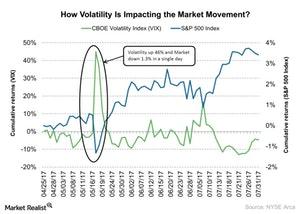 Is Jeffrey Gundlach Long on the CBOE Volatility Index?
Jeffrey Gundlach on the volatility index
Gundlach said, "I think going long the VIX is really sort of free money at a 9.80 VIX level today. I believe the market will drop 3 percent at a minimum sometime between now and December. And when it does I don't think the VIX will be at 10."
Article continues below advertisement
Performance of the volatility index
The CBOE Volatility Index (VIX), which measures volatility in the S&P 500 Index (QQQ)(IWM), also known as the "fear index," rose suddenly by nearly 46.3% on May 17, mainly due to the political reasons. Again, on June 29, when the technology sector dragged down the performance of the S&P 500 index, the CBOE volatility index jumped to nearly $15.16 from $10.03 on June 28.
We've already seen in past events, China's (FXI)(YINN) yuan devaluation and the Brexit referendum, that the VIX index rose nearly 143%, and 56%, respectively. Volatility generally picks up when stocks fall, and vice versa. As the volatility index remained near its historic lower level, taking a long position on the VIX index could provide a strong return in the near future.
In the next part of this series, we'll analyze Gundlach's view on the Trump administration.