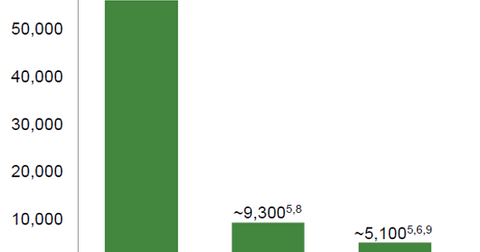 JAZZ Is Focused on Increasing Market Adoption of Defitelio
By Margaret Patrick

Updated
Defitelio market adoption
Jazz Pharmaceuticals (JAZZ) expects quarterly variability in Defitelio sales as the drug targets hepatic veno-occlusive disease (or VOD), an ultra-rare condition. Further, the dosage of the drug administered depends on the weight of the patient. Thus, there is a considerable difference in the amount of the drug prescribed to adult patients versus that prescribed to a pediatric patient.
Jazz Pharmaceuticals had also anticipated glitches in the adoption of the drug for adults, as some hematopoietic stem cell transplant physicians have a tendency to delay treatment while waiting for the spontaneous resolution of VOD signs or would opt for treatment only in the case of significant deterioration of the patient's condition. However, not withstanding these challenges, the drug has managed to demonstrate better-than-expected adoption in the adult patient group.
If Jazz Pharmaceuticals succeeds in boosting demand for Defitelio through its awareness efforts, it may have a favorable impact on share prices of the company as well as those of the Pharmaceutical ETF (PPH). Jazz Pharmaceuticals makes up about 2.8% of PPH's total portfolio holdings.
Article continues below advertisement
Awareness initiatives
The above diagram shows the market potential for Defitelio in the US and Europe. In July 2017, Jazz Pharmaceuticals also managed to secure regulatory approval for Defitelio in VOD indications. The company expects to launch this drug in the Canadian market in late 2017.
To further increase the market adoption of the drug in the US, the company has focused on educating healthcare providers about the severity of VOD, the urgency of treatment, and the benefits that VOD patients can derive from timely treatment with Defitelio. Jazz Pharmaceuticals has also been striving to expand awareness about VOD and Defitelio among hospital administrators, physicians, and pharmacists in Europe and other markets.
Defitelio has thus made Jazz Pharmaceuticals a prominent player in the treatment of post-HSCT complications, similar to peers such as AbbVie (ABBV), AstraZeneca (AZN), and Celgene (CELG).