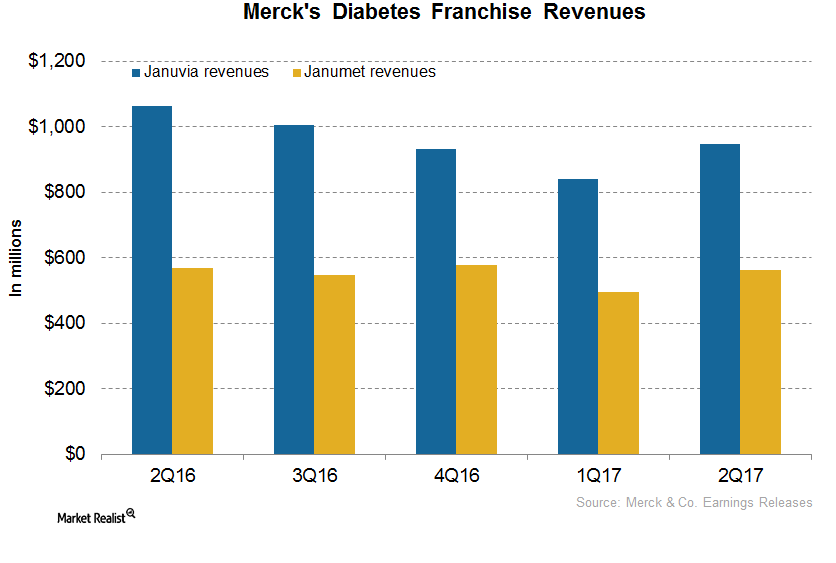 Januvia and Janument: An Update on Merck's Diabetes Franchise after 2Q17
Januvia and Janumet: Revenue trends
In 2Q17, Merck's (MRK) Januvia generated revenues of around $948 million, which reflected an ~11% decline on a year-over-year (or YoY) basis and 13% growth on a quarter-over-quarter basis.
In 2Q17, Merck's Janumet generated revenues of around $563 million which reflected ~1% growth YoY and ~14% growth quarter-over-quarter.
In 2Q17, Januvia and Janumet had combined revenues of $1.5 billion, which reflected an ~8% decline on a YoY basis. In 2Q17, Merck's Diabetes franchise contributed ~15% to Merck's net revenues in the quarter.
The chart above represents the revenue trajectory of Merck's Diabetes segment. To learn more about this franchise, please read Merck's Diabetes Franchise Could Generate Steady Revenues in 2017.
Merck estimated that in 2Q17, 1% of revenues from the sales of Janumet and Januvia were affected by the unfavorable impact of foreign exchanges. Lower sales in the US, coupled with pricing pressures and lower customer inventory, were the primary drivers of its decline in revenues in 2Q17.
Article continues below advertisement
In 2Q17, pricing pressures in Europe and reduced demand contributed to the decline in sales. This decline was partially offset by its growth in sales volume in Latin America and Asia-Pacific. In 1H17, Januvia and Janumet together generated revenues of ~$2.8 billion, reflecting an ~7% decline on a YoY basis.
Recent approval
In July 2017, the FDA granted tentative approval for Merck's Lusduna Nexvue (insulin glargine injection). Insulin glargine is used for controlling the blood sugar level in individuals with diabetes mellitus. Merck's Lusduna Nexvue met all standard regulatory requirements for follow-on biologics of clinical and nonclinical safety, efficacy, and quality.
However, due to a lawsuit from Sanofi that claimed patent infringement, Lusduna Nexvue is subject to an automatic stay. Sanofi initiated a lawsuit in September 2016 that appealed the stay on final approval of Lusduna Nexvue by the FDA. This stay could last for up to 30 months or in the event a court verdict favors Merck, whichever occurs first.
Merck's peers in the diabetes drugs market include Novo Nordisk, Eli Lilly (LLY), Sanofi (SNY), Boehringer Ingelheim, AstraZeneca, Johnson & Johnson (JNJ), Novartis, and Takeda Pharmaceuticals. Merck comprises ~1.3% of the iShares Russell 1000 Value ETF's (IWD) total portfolio holdings.