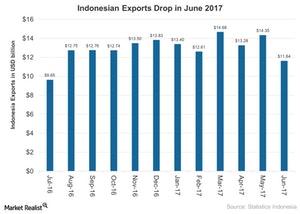 Indonesia's Exports Fell in June 2017
Indonesia's exports
Exports from Indonesia (EIDO) in June 2017 stood at $11.6 billion, a fall of 11.8% on a year-over-year basis and 19% on a month-over-month basis. The contraction in exports was not in line with analyst estimates due to the Idul Fitri holidays and truck restrictions on toll roads as a result of the festivities. Let's look at Indonesian exports over the past year in the below chart.
Article continues below advertisement
Exports in June 2017
Exports in June 2017 stood below the market estimates of 7.5% growth. Exports fell for the first time in the last nine months in June 2017 as exports of non-oil-and-gas products fell 13.9% to $10.4 billion as compared to the same period last year. Meanwhile, oil and gas exports rose in June 2017 by 8.7% to $1.3 billion as compared to the corresponding period last year.
After reaching a peak in 2012, Indonesian (IDX) exports began to fall due to lower commodity prices and falling global demand. However, exports are expected to pick up with improved global economic growth, which could boost global trade volumes and thus have a positive effect on Indonesia's economic growth in 2017. According to the IMF's April 2017 economic outlook report, exports constitute about 4.4% of total Indonesian economic output.
Global policies and Indonesian exports
Several external factors are expected to impact the Indonesian (EEM) economy in 2017. The protectionist stance from the US government, as well as the Fed's hike and its plan to unwind the balance sheet, could affect investments in several emerging market economies including Indonesia in 2017.
Indonesia has a surplus against the US (SPY) of about $13 billion as of 2016. Indonesia along with economies like Japan (EWJ) and South Korea (EWY) are being investigated for potential trade manipulation due to their huge trade surplus with the US (QQQ). The trade restrictions due to the US's protectionist stance could affect Indonesia's economic growth in 2017.
Let's look at manufacturing activity in Indonesia in the next article.