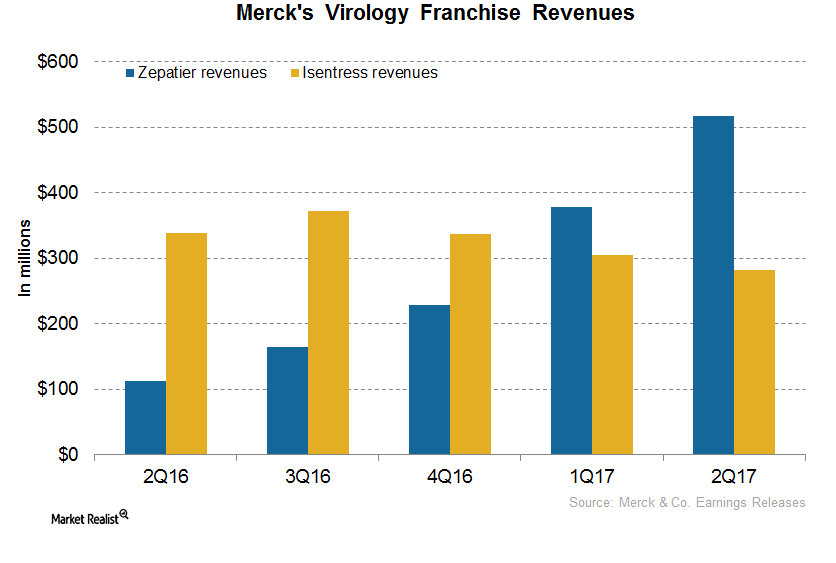 How Merck's Zepatier and Isentress Are Positioned after 2Q17
Zepatier's revenue trends
In 2Q17, Merck's (MRK) Zepatier generated revenues of ~$517 million compared to $112 million in 2Q16. In 2Q17, Zepatier witnessed 37% growth on a quarter-over-quarter basis. In 1H17, Zepatier generated revenues of ~$895 million compared to $161 million in 1H16.
Sales growth in the US, Europe, and Japan contributed to the drug's revenue growth in 2Q17 and 1H17. However, Merck expects that this high growth may be unfavorably affected due to declining overall patient volumes in many global markets as well as growing competition.
Zepatier's peers in the chronic HCV (hepatitis C virus) drugs market include Gilead Sciences' (GILD) Harvoni, Sovaldi, and Epclusa. Other peers in this market include Bristol-Myers Squibb's Daklinza, AbbVie's Technivie and Viekira, and Johnson & Johnson's (JNJ) Olysio.
To learn more about Zepatier, please read Merck's Zepatier Could Witness Significant Growth in 2017.
Article continues below advertisement
Isentress: Revenue trends
In 2Q17, Merck's Isentress generated revenues of ~$282 million, which represents an ~17% decline on a year-over-year (or YoY) basis and an ~8% decline on a quarter-over-quarter basis. In 1H17, Isentress reported revenues of ~$587 million, which is an ~13% decline on a YoY basis.
Merck estimated that in 2Q17, unfavorable foreign exchanges had an ~1% negative impact on global sales. Increased competition, decreasing demand in the US and European markets, and lower sales volumes in Brazil were the primary factors that led to the revenue decline for Isentress.
In July 2017, the European Commission (or EC) provided marketing authorization to Merck's once-daily dose of Isentress in combination therapy with other antiretroviral drugs for the treatment of individuals with HIV-1 infection and weighing at least 40 kg (~88 pounds). To learn more about Isentress, please read How Merck's Isentress Is Expected to Perform in 2017.
Merck's peers in the HIV drug market include Gilead Sciences (GILD), Johnson & Johnson (JNJ), GlaxoSmithKline, and Bristol-Myers Squibb (BMY). The iShares US Pharmaceuticals ETF (IHE) invests ~7.8% of its total portfolio in Merck.