How Medtronic Is Accelerating Its Economic Value Growth Strategy
Medtronic's (MDT) Hospital Solutions segment registered double-digit growth in fiscal 1Q18.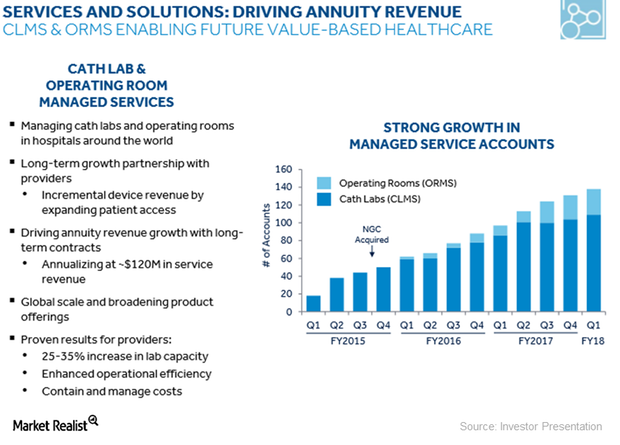 Overview
Medtronic (MDT) utilizes a three-pronged growth strategy focused on therapy innovation, globalization, and economic value. As the healthcare industry is shifting toward value-based models, Medtronic has also focused on changing its business models. The company is focused on developing value-based solutions in healthcare across the company's business segments.
Article continues below advertisement
Article continues below advertisement
Strategic initiatives to drive economic value
In Medtronic's (MDT) Hospital Solutions business, the company has expanded its services to around 140 customers worldwide. The business segment registered double-digit growth in fiscal 1Q18. The company has been managing cath labs and operating rooms under the segment's operations, which have witnessed strong growth since fiscal 1Q15, as shown in the chart above.
Under the CRHF (Cardiac Rhythm and Heart Failure) division under the CVG (Cardiac and Vascular Devices group) segment, Medtronic has been witnessing strong growth in its TYRX-related value-based program for infection control and implantable devices, entailing a risk-sharing arrangement.
The arrangement helped Medtronic double its accounts in fiscal 1Q18 to 325. Around 10% of Medtronic's US CRHF implantable revenues are now covered under this arrangement. For details about this agreement, please read Medtronic's Agreement Will Expand the Use of Its Tyrx Envelopes.
In June 2017, Medtronic entered an outcome-based agreement with Aetna (AET) for patients suffering from Type 1 and Type 2 diabetes. The agreement gave Aetna access to Medtronic's diabetes technologies and services, and it measures the health outcomes of patients that transition from multiple daily insulin injections to pump therapy.
According to Medtronic, "The agreement ties a component of Medtronic's reimbursement to successfully meeting clinical improvement thresholds, with the goal of elevating the patient experience, improving clinical outcomes and lowering the total cost of care."
Medtronic's peers Stryker (SYK) and Boston Scientific (BSX), as well as other players in the US medical device industry, have also entered into a variety of partnerships, agreements, and initiatives. These initiatives are intended to accelerate their focus on providing value-based services to their customers amid the changing healthcare industry landscape.
Investors who seek industry-specific exposure to Medtronic can consider the iShares US Medical Devices ETF (IHI), which holds 10.6% of its total portfolio in Medtronic.
In the next article, we'll discuss Medtronic's emerging market position and the opportunities ahead.