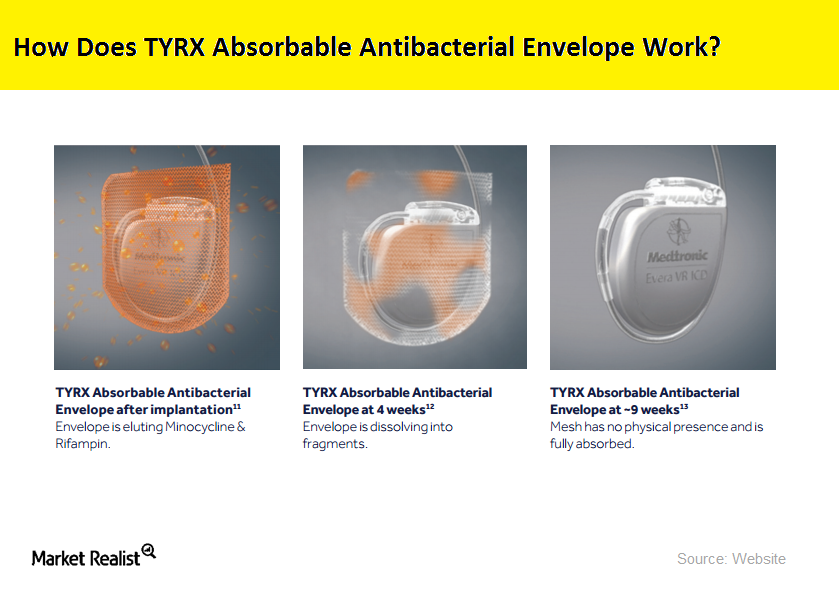 Medtronic's Agreement Will Expand the Use of Its Tyrx Envelopes
Tyrx envelope
Medtronic's (MDT) Tyrx envelope is an antibacterial and fully-absorbable device that helps prevent surgical site infections. The device was added to Medtronic's portfolio through the acquisition of Tyrx, a New-Jersey based company, in January 2014. The product is cleared for use with CIEDs (cardiac implantable devices) and INSs (implantable neurostimulators).
The Tyrx envelope is wrapped around the implantable device and implanted in the patient. The envelope elutes anti-microbial drugs minocycline and rifampin for seven days and dissolves over about nine weeks. It releases antibiotics and prevents infections.
Article continues below advertisement
Article continues below advertisement
Medtronic's agreement with healthcare providers
Replacing infected heart devices costs the US healthcare system ~$1 billion each year. Reflecting confidence in its Tyrx envelope, Medtronic has put a program in place that aims to reduce infection rates related to heart devices. As part of the program, Medtronic signed "risk sharing" agreements with more than 140 hospitals and clinics in the US. The agreement confirms that a substantial rebate will be given towards the cost of removing and replacing an infected Medtronic device if it was implanted along with a Tyrx envelope. The program has helped Medtronic gain higher market share. To participate in Medtronic' growth potential, investors can invest in the iShares Russell 1000 Value ETF (IWD). IWD has ~1.1% of its total holdings in Medtronic.
In the wake of changing industry dynamics, similar value-based programs are being implemented across the healthcare space. In 2016, Stryker (SYK) undertook a similar program called "SurgiCount Promise," which involved a $5 million product liability indemnification agreement in case the company's surgical sponges get left in the patient despite using its specialized bar code system tracking. Other major players that have recently undertaken such "risk sharing" agreements include Johnson & Johnson (JNJ) and St. Jude Medical. Now, St. Jude Medical is part of Abbott Laboratories (ABT).