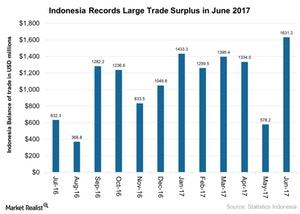 Here's Why Indonesia's Trade Surplus Rose in June 2017
Indonesia's trade balance
Indonesia's (EIDO) trade surplus in June 2017 stood at $1.6 billion as compared to $1.1 billion in the corresponding period last year and $0.57 billion in the previous month. The increased trade surplus in 2Q17 was mainly supported by its non-oil-and-gas export growth. However, the overall exports and imports rose at a slower rate in June 2017 as compared to the corresponding period the previous year. Let's look at Indonesia's trade balance over the past year in the below chart.
Article continues below advertisement
Trade surplus in June 2017
The trade surplus in June 2017 in Indonesia (IDX) came in above market estimates of $0.82 billion. It was also the largest trade surplus since November 2011, as imports dropped at a faster pace than exports. Exports unexpectedly fell to $11.7 billion, an 11.8% decrease from the previous year. Imports also fell 17.2% to $10.0 billion during the same period.
For the first half of 2017, the trade surplus was recorded at $7.6 billion, mainly driven by a rise in exports. The exports for the first half of 2017 stood at $80.0 billion, a 14.0% rise as compared to the same period a year earlier. The imports stood at $72.3 billion, an increase of 9.6% for the same period.
Expectations
Consumption growth in Indonesia (EEM) seems to be lower as reflected by slower retail sales, which affects imports. Exports continued to grow in the first half of 2017 but below the previous projections due to slower growth of exports for primary and manufacturing goods.
The economic growth in Indonesia is expected to increase supported by stronger export performance and investments in 2017. The Bank of Indonesia projects the 2017 economic growth to stay within the 5.0% to 5.4% range. However, economic growth, which is currently fueled by exports, is expected to face trouble ahead as commodity prices have been on a declining trend lately. Global (ACWI) demand also has improved but doesn't ensure growth due to the protectionist stance by some economies including the US (SPY) and the UK (EWU).
Let's look at exports in detail in the next article.